National Drive Electric Week
Richmond, VA
Sep 09, 2017
Day:
Saturday, September 9, 2017

NOTE: this event has already happened

, find current-year events on the Attend page.
Time:
8 AM to 12 PM
Location:
South of the James Farmers Market
New Kent Avenue and 42nd Street
Richmond, VA 23225

Event Report
Drive Electric RVA reached its widest audience yet for our fourth annual celebration of National Drive Electric Week. This year, we had 21 electric vehicles on display at the entrance to the South of the James Farmers Market, the largest in metro Richmond. A typical market draws more than 2,000 people, and we estimate that we connected with about 750 attendees. We also offered test drives of the Chevy Volt and Ford C-MAX Energi at a nearby church.

The display included the latest mass market EVs as well as unique offerings like the ELF velomobile and several models of electric assist bicycles. In addition, Dominion Energy sponsored a drawing for 10 free memberships in our Electric Auto Association chapter, while the Virginia chapter of the Sierra Club helped publicize the event along with media sponsor WCVE-FM. Finally, we tested prototypes of exhibits that we are developing for a future EV education center in Richmond.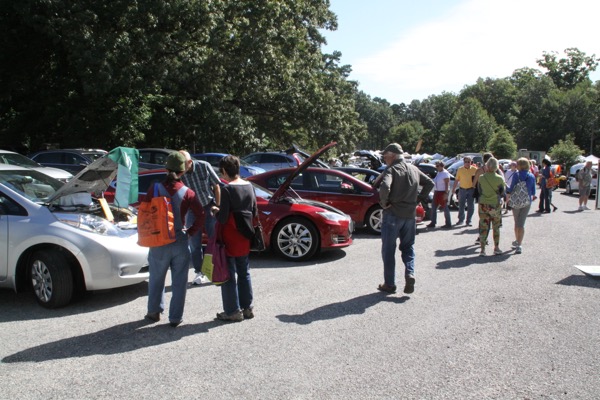 photo by: Humphrey Liu


Local EV owners explained the benefits of their cars to many interested visitors.
Event Description
Join Drive Electric RVA at the South of the James Farmers Market to celebrate National Drive Electric Week on Saturday, Sept. 9 from 8 a.m. to 12 p.m. We will have a variety of electric vehicles on display, including unique EVs like the ELF velomobile from Organic Transit and the OneWheel electric skateboard made by Epic RVA.
In addition to the vehicles on display, we will have several EVs available for test drives at Good Shepherd Episcopal Church near the market. Shuttle service will be provided ... along with Krispy Kreme donuts in case you are hungry :) Models scheduled for test drives include the Chevy Volt, BMW i3, Toyota Prius Prime, Ford C-MAX Energi, and several types of electric assist bikes sold by Shift Bicycles.
Please sign up for a test drive by clicking on the blue "Register" button above. Let us know in the comments section that you want to do a test drive and note any particular EVs you would be interested in seeing.
We will also have a drawing for 10 free memberships in our chapter of the Electric Auto Association. Membership includes a monthly newsletter and discounts at local businesses, including Titan Auto & Tire, DetailXPerts of Greater Richmond, and Davis & Green Electrical. Each new member will also receive a goodie bag that includes Nissan LEAF-branded merchandise and a KICK GAS frisbee. Many thanks to Dominion Energy for subsidizing the free memberships.
Finally, we will have tables with information on electric vehicles and solar energy, activities for children, and EV exhibits provided by Drive Electric RVA and Virginia Clean Cities.
(Note: Due to space constraints, we have run out of room to display additional electric vehicles. If you own an EV, we still want to meet you! Please feel free to stop by and say hi.)


Registered Attendees
There are currently 72 attendees registered.
Owners of These Vehicles Have Registered To Attend
| | |
| --- | --- |
| Vehicle | Registered |
| Chevrolet Volt | 6 |
| Tesla Model S | 5 |
| Chevrolet Bolt | 4 |
| Nissan Leaf (2011-2017) | 4 |
| Other Plug-In Vehicle | 3 |
| BMW i3 REx | 1 |
| Ford C-MAX Energi | 1 |
| Ford Focus Electric | 1 |
| Smart fortwo electric drive | 1 |
| Toyota Prius Prime | 1 |
| Toyota RAV4 EV (1997-2003) | 1 |
| 11 Models | 28 |
Registered attendees report 562,854 electric miles driven.