National Drive Electric Week


Columbus State Community College


Columbus State Community College, OH




Sep 17, 2017
Day:
Sunday, September 17, 2017

NOTE: this event has already happened

, find current-year events on the Attend page.
Location:
Columbus State Community College, OH 43215

Event Report
In Columbus 2017, a four hour long Drive & Ride event was held on the campus of Columbus State Community College, lead by Clean Fuels Ohio, and assisted by these five Columbus organizations and EV advocates:

September 17 Highlights:
Informative tours by the Columbus State AUTO Technology Lab and educational program. The school offers certificates in Automotive Vehicles repairs, including EVs.

The Electrical Trades Center of Central Ohio & IBEW, installed on site an Alternative Demonstrator (G-PAD), at no cost. It allowed solar energy to provide power for a DJ, and to educate the public, drivers and spectators about their training and employment programs.

Orbit City Electric Bikes provided many unusual and electric assist bikes for test rides. Orbit owner Tom Bennett shared that he conducted over 40 test rides - more than any other event!

The Ohio Sustainability Business Council and Design Energy talked about solar, charging stations and other EV and sustainability issues.

EV Owners were pleased that the folks that visited came specifically to learn and chat about EV vehicles. They also appreciated having music, a food truck, with plenty of chairs and tables, as the festive atmosphere led people to hang around for hours.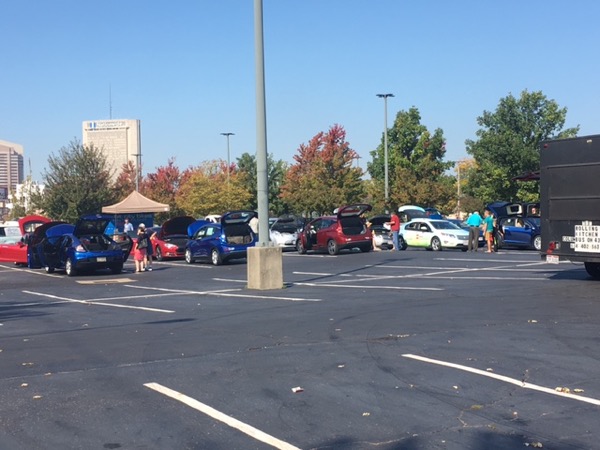 photo by: Lynn Stan


A wide view of the parking lot filled with EV vehicles.
Event Description