National Drive Electric Week
Morristown, NJ
Sep 16, 2017
Day:
Saturday, September 16, 2017

NOTE: this event has already happened

, find current-year events on the Attend page.
Location:
Morristown, NJ 07960

Event Report
This year no dealer test drives but a Model S driver took people out

The highlight was the return of the 1917 Detroit Electric Model 68. The owners rive it on local roads for 15 miles to get to our event. This year we had a birthday cake to celebrate the EV turning 100. I said a few words and pointed out to the drivers and public joining us that in just a few years we now have over 10 manufacturers represented in our one parking lot where before we maybe had 4.

Another highlight were the 4 Tesla Model Xs that did the Christmas Easter Egg all at once.

The event this year was probably the most fun, lots of laughs, meeting up with old friends and a ton of walk ins with great questions and interests. The event is located on the main walk way in the town so we get lots of foot traffic. We went 45 mins overtime because we were so busy, this year the majority of drivers stayed the entire event.

Finally we had a news crew that joined us after learning about the event, they were there for about 2 hrs interviewing people and documenting the goings on.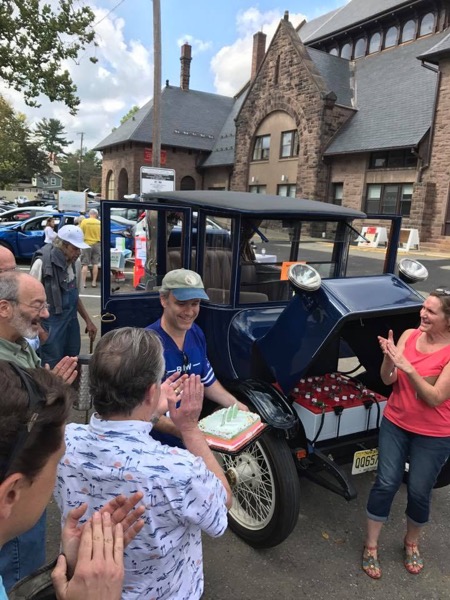 photo by: Chris Neff


I have attached a link to all of the pictures and here is a video link to the Tesla Model Xs doing the Christmas Easter Egg https://youtu.be/Ab-FgkwzCx8 The uploaded pic is of me (Chris Neff - City Captain and organizer) presenting a birthday cake to the owners of the 1917 Detroit Electric Model 68 as it turned 100 years old. Lauren Cranmer took that photo
Event Description