National Drive Electric Week
Groton, CT
Sep 15, 2016
Day:
Thursday, September 15, 2016

NOTE: this event has already happened

, find current-year events on the Attend page.
Time:
2pm-5pm
Location:
Navy SUBASE, Dealey Center (Requires Base Access)
Crystal Lake Rd
Groton, CT Groton

Event Report
New England Electric Auto Assn, teaming with Navy NAVFAC, hosted the event on the Navy Base. Public access was limited but open to all on-base personnel. Eight personal EVs/ PHEVs were able to participate and owners were able to share their EV experiences.

Approximately 1,000 sailors and civilians filled the auditorium to capacity for general training that ended with 15 minutes presentation on EV 101 basics. Many left through the front entrance and on to Dealey Plaza where they were able to talk with owners about their experiences with EVs. The all-electric Teslas attracted quite a bit of attraction as well as the BMW I3 Rex and Ford C-Max Energi, both plug-in hybrids.

All participants were glad that the event took place, glad to see the cars on display and to talk with owners.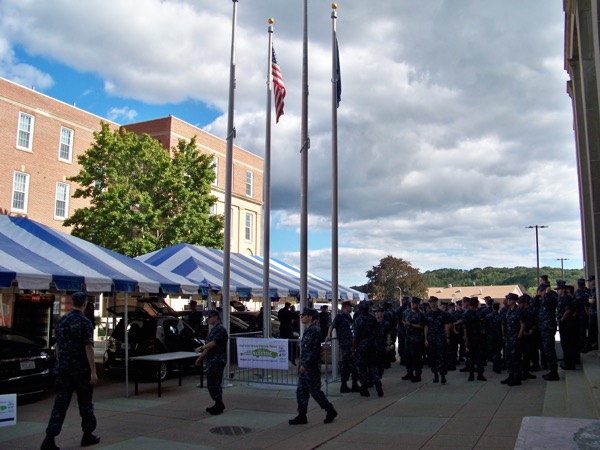 photo by: Dave Oliveria


There were nine personally owned EVs/ PHEVs parked as a static display on Dealey Plaza at Navy SUBASE Groton. This picture was taken shortly after sailors finished general training that ended with a 15 minute EV 101 presentation.
Event Description
Come join us at the SUBASE (restricted access), in front of Dealey Center for on Thursday, September 15, to earn more about Electric Vehicles (EV)

We are planning a 10 to 20 minute EV Basics presentation in the base auditorium during afternoon GMT and a static display from 2pm to 5pm of EVs and Plug-in Hybrids from owners themselves


Have an Electric Vehicle (or Plug-in)?
Bring your EV/PHEV to Pass Parking by 1:45pm
to be escorted into the Static Display area to show it off and answer questions about what it's like to own an EV/PHEV.
Want to learn more about owning an EV/Plug-In? Come visit and ask real owners about their experiences.
In all cases, we encourage you to register to attend to help us better plan the event.
Directions to SUBASE; On Interstate 95 in Groton, take the exit for route 12 and follow the signs for the base. Follow white NDEW lawn signs to our event! Reserved parking for EV/Plug-in EV owners. Look for our green and white NDEW signs!
NEEAA (www.NEEAA.org) is involved with more sites in New England. Check out the full list here.
Plug In America Public Service Announcements - Here are some fun videos promoting EVs, brought to you as a public service by Plug In America. https://www.youtube.com/playlist?list=PLB8A30D58E1AF9DB5
Registered Attendees
There are currently 16 attendees registered.
Owners of These Vehicles Have Registered To Attend
| | |
| --- | --- |
| Vehicle | Registered |
| Ford C-MAX Energi | 2 |
| Tesla Model S | 2 |
| BMW i3 REx | 1 |
| Chevrolet Volt | 1 |
| Ford Transit Connect Electric | 1 |
| Nissan Leaf (2011-2017) | 1 |
| Smart fortwo electric drive | 1 |
| Toyota Plug-in Prius | 1 |
| 8 Models | 10 |
Registered attendees report 176,877 electric miles driven.
In the News…