National Drive Electric Week
Cincinnati, OH
Sep 17, 2016
Day:
Saturday, September 17, 2016

NOTE: this event has already happened

, find current-year events on the Attend page.
Time:
10am to 3pm
Location:
Tri County Mall Parking Lot
11700 Princeton Pike
Cincinnati, OH 45246

Event Report
Workhorse Group was awarded an Environmental Leadership Award at the first ever National Drive Electric Week event held in Cincinnati on Sept 17th.
The award was given in Recognition of their Contribution to Sustainable Transportation.
They have developed an extremely energy efficient and reliable electric drive train for class 3 to 6 truck chassis, which they are now in the process of delivering to customers like UPS, FedEx and Alpha Baking. They are also now finalists to replace the USPS fleet.
The drive train is setting a new standard for energy efficiency and emission control for the trucking industry. It will undoubtedly be of great benefit for the environment.
It replaces the extremely energy inefficient, air polluting, green house gas emitting diesel and gas powered drive trains currently in common use.
This award was recently established in honor of Sister Paula Gonzales, a Sister of Charity, and former Professor of Biology at Mount St. Joseph University in Cincinnati.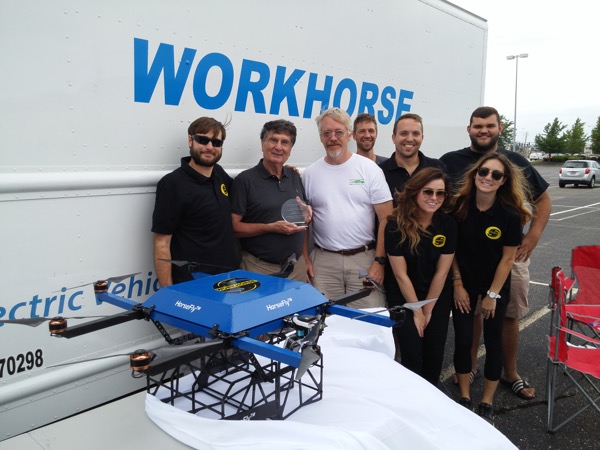 photo by: Tim Severyn


Pat McCullough, City Captain presenting award to Don Wires, Chief Engineer Workhorse
Event Description
Come to the First Ever National Drive Electric Week Ride and Drive Event in Cincinnati
on September 17th from 10am to 3pm at the Tri-County Mall
FREE AND OPEN TO THE PUBLIC!
We will be in the parking lot on the corner of Princeton Pike and Kemper Road
(by BJ's Brewhouse and the Ethan Allen Furniture store)
Already own an EV? Come put your car on display and talk to attendees about why you love driving electric.
(so we have an idea of who will be coming)
Several local EV dealers will be present to provide ride and drives
(many thanks to Jake Sweeney BMW and Chevrolet, Jeff Wyler Nissan, McCluskey Chevrolet, Workhorse, Zenith Motors)
We will have all-electric delivery vans made locally by the Workhorse Group (formerly Amp Electric Vehicles)
in Loveland, Ohio, as well as a demonstration of their electric delivery drone! (
http://workhorse.com
).
privately funded company in Wilder, Ky.
Two UPS EGEN electric delivery vans made by Workhorse are currently making deliveries in Cincinnati.
We hope to have one at the show, and potentially others made by Workhorse for other current customers,
Experience the excitement of the instant full-torque acceleration that EV's offer, with an amazingly quiet and smooth ride.
Experience the magic of regenerative braking, which allows the vehicle to stop without stepping on the brake pedal,
all the while recharging the battery pack! (and which markedly extends the life of the brakes, so no more brake jobs!).
Learn about the many other advantages of owning an electric vehicle, including
1.
lower energy costs (electricity is still cheaper than gas)
2.
lower maintenance costs (no oil, antifreeze, transmission fluid, oil pan or filter, radiator, transmission,
exhaust system, gas filter, etc.),
3.
zero emissions and cleaner air (no air cleaner or emission control systems, no air pollution or green house gases),
4.
home charging (never go to a gas station again, unless you need air!),
5.
amazing energy efficiency. Most electric cars get around the equivalent of 100 mpg based on the amount of
electricity they use, while the Workhorse EV's can get up to the equivalent of 26 to 40 mpg (compared to only
5-6 mpg for a diesel powered delivery van, and they also have no transmissions!).
We currently have test drives and/or rides lined up for the
1. Workhorse EGEN
3. Tesla Model X
10. Zenith Electric Passenger Van
11. Electric bicycles (and motorcycles: Joe's Cycle Shop sent their regrets on 9/14)
(note: some dealers only allow test drives at their dealership, but will offer rides at the event,
while others will allow test drives at the event; some owners are also offering rides in their EVs).
Several other environmentally focused groups will be in attendance, so stop by and see what they have to offer!
1. The Sierra Club (http://www.sierraclub.org/#!) (see Ready for 100% link below)
2.
The Melink Corporation (http://www.melinkcorp.com) , which has a large fleet of electric vehicles; a net zero energy
manufacturing facility in Milford; and who installed the solar canopy at the parking facility at the Cincinnati Zoo;
specializes in non-residential, commercial solar projects; and has an outstanding sustainability program.
3.
The City of Cincinnati Office of Environment and Sustainability (http://www.cincinnati-oh.gov/oes/), which offers
free parking in Cincinnati for owners of pure electric vehicles (see link below);
4. Icon Solar (http://www.iconsolar.com) installers of solar electric (photovoltaic) systems, and the only
only Certified Installer of Tesla Energy Powerwall battery packs for home energy storage in Ohio, Kentucky and
Indiana.
5. Metro Scooter (https://metro-scooter.neuralpro.be), who sell electric scooters and bicycles
6. Green Umbrella (http://www.greenumbrella.org), the leading alliance working to maximize the environmental
sustainability of Greater Cincinnati.
7.
The American Lung Association (http://www.lung.org/about-us/local-associations/ohio.html), as outdoor air pollution
is now recognized as a cause of lung cancer (see link below); more than half of Americans live with unhealthful
levels of air pollution (see link below); and Cincinnati has been found to be one of the most polluted cities in the
nation (see link below).
8. Joe's Cycle Shop (http://www.joescycleshop.net) in Dayton, who sell Zero Electric Motorcycles.
9. A-Abel Electric (http://a-abel.com/electrical/) We install chargers for Tesla, aeronvironment (Nissan leaf), and are
also certified through Eaton for the Chevy Volt.
We will also be hosting a special event at Moeller High School on September 7th. Moeller has agreed to be an
Ambassador School for NDEW, and students will be working as volunteers at our event on Sept 17th.
The event at Moeller is being organized by Dan Shannon, a long-time Environmental Science teacher, and will
feature presentations by
1.
Steve Burns, CEO of Workhorse Group
2.
Suzy DeYoung, owner of La Soupe, who rescues otherwise wasted produce to create delicious and highly
nutritious meals for customers, non-profits and food-insecure families.
3.
Marilyn Wall, Sierra Club, on the Ready for 100% campaign (see link below)
4.
Tim Severyn, Director of Social Mission, Bellarmine Chapel, on Laudato Si,
(the encyclical by Pope Francis) (see link below)
We hope to have several electric vehicles present for the students to see, including the Workhorse EGEN and electric drone, Tesla Model S, Tesla Model X, Nissan Leaf, BMW i3, BMW i8, Cadillac ELR, Chevy Volt, and others.
Many thanks to members of the Bellarmine Chapel Healthy Earth team for organizing this event in Cincinnati, with help from
members of the Workhorse Group, Moeller High School, Tri-County Mall, the City of Springdale, the Sierra Club, Plug In
America, and several individual volunteers.
We will be giving out an award during the event in honor of the late Sister of Charity Paula Gonzales, who was a pioneer
in environmental causes. She taught at the College of Mount St Joseph in Cincinnati, Ohio for many years. She was a very

strong advocate for renewable energy, and participated in the United Nations Earth Summit in 1992 in Rio de Janeiro. She
was widely known as the "solar nun", and had many amazing accomplishments in her life, among which included the
development of a solar powered vehicle.
(check back periodically for updates)

Registered Attendees
There are currently 84 attendees registered.
Owners of These Vehicles Have Registered To Attend
| | |
| --- | --- |
| Vehicle | Registered |
| Nissan Leaf (2011-2017) | 6 |
| Chevrolet Volt | 4 |
| Tesla Model S | 3 |
| BMW i3 REx | 1 |
| Cadillac ELR | 1 |
| EV Conversion | 1 |
| Ford Focus Electric | 1 |
| Mitsubishi i-MiEV | 1 |
| Other Plug-In Vehicle | 1 |
| Tesla Model X | 1 |
| Toyota Plug-in Prius | 1 |
| 11 Models | 21 |
Registered attendees report 368,976 electric miles driven.
In the News…