National Drive Electric Week
Ivins, UT
Sep 10, 2016
Day:
Saturday, September 10, 2016

NOTE: this event has already happened

, find current-year events on the Attend page.
Location:
Ivins, UT 84738

Event Report
In addition to the plug-in cars available, a bike dealer brought a half-dozen e-bikes for attendees to ride. For the first NDEW in this isolated area, I think that it went well, with a decent turnout: 76 attendees, 14 rides given, 12 test drives, 15 plug-in vehicles (6 LEAFs, 4 Volts, 3 Model S, 1 Model X, 1 C-Max Energi). The Stephen Wade Chevrolet and Nissan dealerships were more than helpful and generous. The feedback I have received from attendees has all been positive so far. The highlight of the gathering was that an unregistered Tesla Model X showed up which obviously attracted a great deal of attention and envy. I deeply appreciate Kayenta for allowing us to sponsor the celebration in the parking lots of the Coyote Gulch Art Village. I have posted a description of the EV'ent with more photos on my EV website: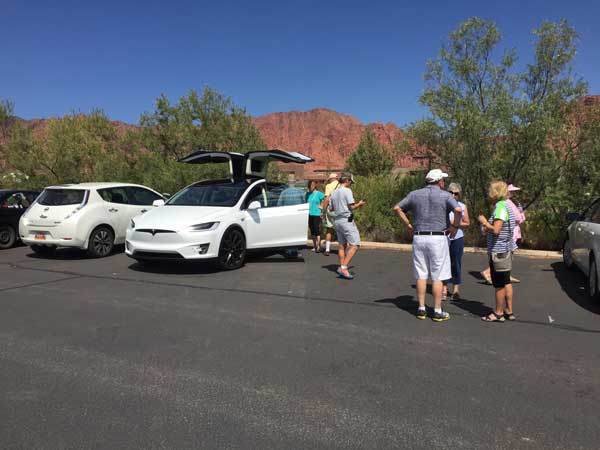 photo by: Mark D Larsen


A Model X owned by James McDermott, with unknown attendees in the parking lot.
Event Description
In the News…