National Drive Electric Week
Ivins, UT
Sep 10, 2016
Day:
Saturday, September 10, 2016

NOTE: this event has already happened

, find current-year events on the Attend page.
Time:
10:00am to 3:00pm
Location:
Kayenta Coyote Gulch Art Village
875 Coyote Gulch Court
Ivins, UT 84738

Event Report
In addition to the plug-in cars available, a bike dealer brought a half-dozen e-bikes for attendees to ride. For the first NDEW in this isolated area, I think that it went well, with a decent turnout: 76 attendees, 14 rides given, 12 test drives, 15 plug-in vehicles (6 LEAFs, 4 Volts, 3 Model S, 1 Model X, 1 C-Max Energi). The Stephen Wade Chevrolet and Nissan dealerships were more than helpful and generous. The feedback I have received from attendees has all been positive so far. The highlight of the gathering was that an unregistered Tesla Model X showed up which obviously attracted a great deal of attention and envy. I deeply appreciate Kayenta for allowing us to sponsor the celebration in the parking lots of the Coyote Gulch Art Village. I have posted a description of the EV'ent with more photos on my EV website: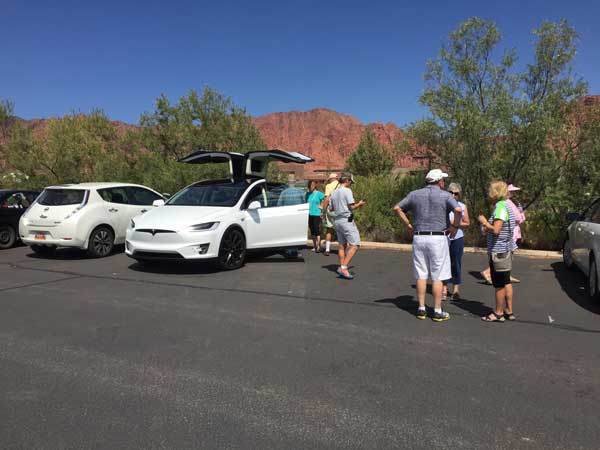 photo by: Mark D Larsen


A Model X owned by James McDermott, with unknown attendees in the parking lot.
Event Description
The first National Drive Electric Week EV'ent in Southern Utah will take place at the Kayenta Coyote Gulch Art Village, which boasts numerous studios, gift shops, and a cafe. There will be several plug-in vehicles for attendees to examine while they chat with their owners to learn more about the joys and benefits of driving on electricity. The celebration will include informational displays, provide refreshments and souvenirs, and coordinate Ride & Drive opportunities.
Registered Attendees
There are currently 52 attendees registered.
Owners of These Vehicles Have Registered To Attend
| | |
| --- | --- |
| Vehicle | Registered |
| Nissan Leaf (2011-2017) | 8 |
| Ford C-MAX Energi | 2 |
| Tesla Model S | 2 |
| Chevrolet Volt | 1 |
| Other Plug-In Vehicle | 1 |
| Tesla Model X | 1 |
| 6 Models | 15 |
Registered attendees report 115,140 electric miles driven.
In the News…