National Drive Electric Week
Goleta, CA
Sep 18, 2016
Day:
Sunday, September 18, 2016

NOTE: this event has already happened

, find current-year events on the Attend page.
Location:
Goleta, CA 93117

Event Report
Community Environmental Council organized an electric car show near the Sunday Farmer's Market at Camino Real Marketplace in Goleta. The car show ran from 10 am to 2 pm. A total of 19 EVs were on display. Three of these vehicles were brought to the event by dealerships and the rest were brought by EV drivers. Owners stayed with their vehicles during the event and spoke with shoppers about driving electric.Based on our event tracking, we estimate that there attendance was 4 times higher than last year's event. Staff from California Assemblymember Das William's office attended. The Santa Barbara County Air Pollution Control District partnered with us for the event and did a great job of getting local media outlets to provide coverage. EVMatch, a local start-up offering an Air BnB-style sharing service for EV chargers, also tabled at the event.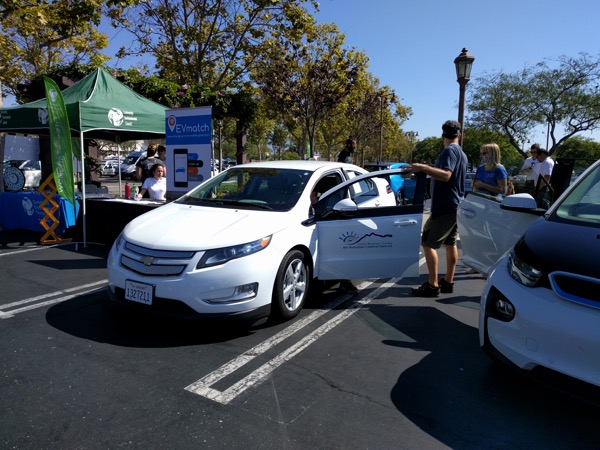 photo by: Molly Pearson, Santa Barbara County APCD


The Santa Barbara County APCD's Chevrolet Volt, parked next to the EVMatch team and Community Environmental Council's EV education booth.
Event Description
In the News…