National Drive Electric Week
Morristown, NJ
Sep 10, 2016
Day:
Saturday, September 10, 2016

NOTE: this event has already happened

, find current-year events on the Attend page.
Time:
10am - 2pm
Location:
Presbyterian Church parking lot
65 South St
Morristown, NJ 07960

Event Report
This was a good year in that we had a tremendous number of families come see us today. The event is held right in the heart of a very trendy area of Morristown NJ so even people walking by can't miss us. We had local stores along our street promoting us as well.

The BMW dealer had 19 test drives in i3s, he could have had more but we ran out of time. There was a line of people waiting at one point - and those that drove some asked the dealer to call them. Visitors were everywhere looking at all of the cars.

Our key EV draw was the 1917 Detroit Electric Model 68, a bright red Model X, BMW i8 and 2 BMW i3s for test drives as well as the owner cars that had visitors checking them out. Press was on site interviewing the drivers and some visitors.

The non-profit sustainable partners I had with me, like Sustainable Morristown had very busy tables. This year was a fun NDEW, everyone had fun, lots of genuine smiles and electricity in the air. Looking forward to next year.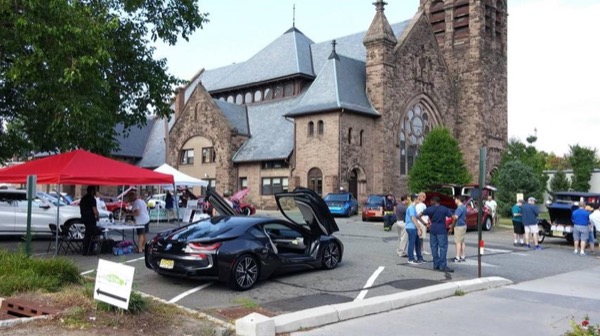 photo by: Chris Neff


BMW i8 (middle), 1917 Detroit Electric (far right), Tesla Model X, BMW i3s (Solar Orange and Protonic Blue), BMW xDrive40e Performance (White), Tesla Model S (red)
Event Description
An opportunity to learn all about Electric Cars in one place. Learn how much fun they are to drive, how little they cost to run and why we all have a big smile on our faces when we drive them. Talk to owners about their experiences and get the chance to drive an Electric Car.
There will be BMW i3s available to test drive - provided by BMW of Morristown
We are excited to announce that a fully restored 1917 Detroit Electric Model 68 will be on display with the owners to talk to, Don and Sarah. There is a detailed article about the restoration of this antique electric vehicle here
Ben Rich will also be joining us - he set an electric bike record this summer by riding through all the lower 48 states and will be on-site to tell all about it. You can find out more about his trip here
Check out the pictures from last years EVent in Morristown - this year will be even bigger with more range ;)
This 1917 Detroit Electric Model 68 will be on display
Ben Rich, electric bike record setter, will be there
Highlights from last year
Highlights from last year
New public chargers in Morristown
If you need a boost before or after attending you will be pleased to know Morristown has installed 3 new Juice Bar public Level 2 chargers this year. Our event last year helped to push that along so THANK YOU!! These new chargers are located in 3 separate parking garages near the event and can be found on Plugshare.com. It is paid parking but the charge is free.
More Highlights

BMW of Morristown located in Morristown NJ will be onsite for test drives/rides in the

electric

BMW i3.

See amazing electric vehicles, brought by their owners, such as the BMW i3, Chevy Volt, Kia Soul EV, Tesla Model X, Tesla Model S, Tesla Roadster, Nissan LEAF, Mercedes B-Class electric car, VW e-Golf, Smart electric car and more.

Talk directly with the owners of these amazing cars, these are their daily drivers.

Fun for the entire family

Refreshments on location
Special thanks to:
Sustainable Morristown for sponsoring us
The Presbyterian Church of Morristown for the use of their lot
BMW of Morristown for the test drive BMW i3s
Registered Attendees
There are currently 62 attendees registered.
Owners of These Vehicles Have Registered To Attend
| | |
| --- | --- |
| Vehicle | Registered |
| BMW i3 REx | 9 |
| Tesla Model S | 3 |
| BMW i3 | 2 |
| Nissan Leaf (2011-2017) | 2 |
| Tesla Model X | 2 |
| BMW X5 iPerformance | 1 |
| BMW i8 | 1 |
| Chevrolet Volt | 1 |
| Detroit Electric Model 68 (1917) | 1 |
| Honda Fit EV | 1 |
| Mitsubishi i-MiEV | 1 |
| Smart fortwo electric drive | 1 |
| Toyota RAV4 EV (2012 and later) | 1 |
| Volkswagen e-Golf | 1 |
| Zero Motorcycle | 1 |
| 15 Models | 28 |
Registered attendees report 398,000 electric miles driven.
In the News…