National Drive Electric Week
Baltimore, MD
Sep 16, 2015
Day:
Wednesday, September 16, 2015

NOTE: this event has already happened

, find current-year events on the Attend page.
Time:
10:00 am
Location:
Baltimore City Hall
250 City Hall
Baltimore, MD 21202

Event Report
On September 16, 2015, Baltimore celebrated National Drive Electric Week by showcasing its first DC Fast Charge equipment outside of City Hall. Mayor Stephanie Rawlings-Blake spoke to a crowd of approximately 125 people, including a strong contingent of local press. The Mayor highlighted the City's "Breath Easier" EV campaign, also calling attending to the City's latest EV addition to its light duty fleet, including a Smart EV, Spark and Ford Focus Electric. Jill Sorensen of BEVI and Matt Wade of the Electric Vehicle Institute also spoke to highlight the City's continuing investments in EV infrastructure.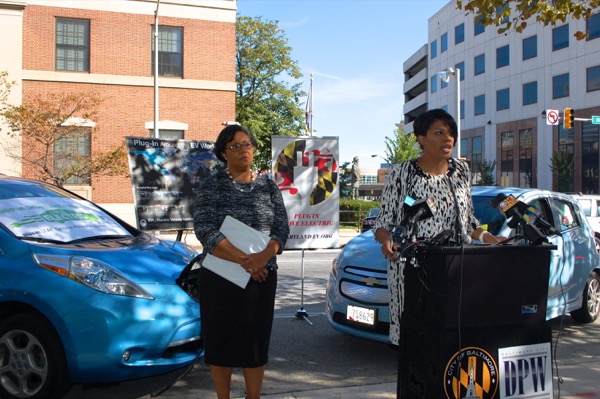 photo by: Carling Sothoron


Mayor Stephanie Rawlings-Blake is speaking at the podium. Her assistant is next to her. Behind the Mayor is Jill Sorensen's Nissan LEAF and friend of Matt Weaver's Chevy Spark.
Event Description
Please join us for a showcase of the electric vehicle fast charger and the addition of electric vehicles to the city's fleet.

Registered Attendees
There are currently 7 attendees registered.
Owners of These Vehicles Have Registered To Attend
| | |
| --- | --- |
| Vehicle | Registered |
| Nissan Leaf (2011-2017) | 1 |
| 1 Model | 1 |
Registered attendees report 19,963 electric miles driven.
In the News…