National Drive Electric Week
Norwalk, CT
Sep 19-20, 2015
Days:
September 19-20, 2015

NOTE: this event has already happened

, find current-year events on the Attend page.
Time:
10 am to 5 pm (Saturday), 10 am to 4 pm (Sunday)
Location:
6th Annual Live Green Festival at Taylor Farm Park
45 Calf Pasture Rd
Norwalk, CT 06855

Event Report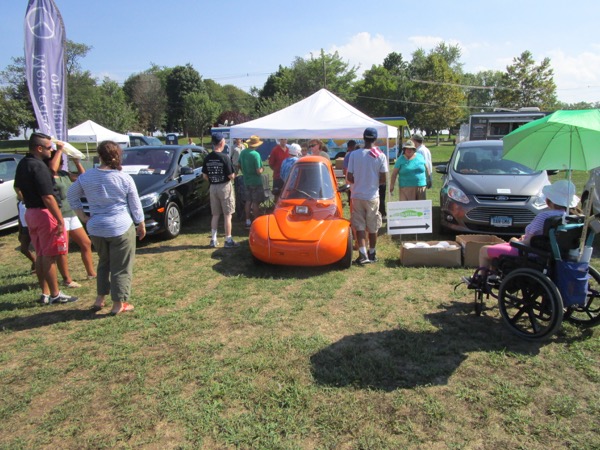 photo by: Joe Booth


Event Photo
Event Description
All attendees and volunteers are required to wear face masks whenever they are within six feet of another person at all National Drive Electric Week 2022 events. Please see this information about how to improve how your mask protects you. For more information, see our in-person event safety requirements.
NEEAA at
Come join us at the 6th Annual Live Green Festival at Taylor Farm Park in East Norwalk, CT Saturday and Sunday, September 19th and 20th.

Pictures from 2014 NDEW Event at CCSU, New Britain, CT
New England Electric Auto Assn (www.NEEAA.org) will be present at the Live Green Festival this year!
Have an Electric Vehicle (or Plug-in) and Want to Display It? Register right away for this event and let us know that you're bringing your EV! We have limited space in the park but will have an overflow area in the parking lot for displays.
Want to learn more about owning an EV/Plug-In? Come visit and ask real owners about their experiences.
In all cases, we encourage you to register to attend to help us better plan the event
Directions to Taylor Farm Park in East Norwalk; On Interstate 95, take exit 16 and head south on East Street. Follow signs to Taylor Park.

NEEAA is involved with eight other sites across Connecticut. The full list can be reviewed here and includes hyperlinks to their NDEW sites. http://neeaa.org/2015-NDEW-CT.pdf
Plug In America Public Service Announcements - Here are some fun videos promoting EVs, bought to you as a public service by Plug In America. https://www.youtube.com/playlist?list=PLB8A30D58E1AF9DB5
Photos! Photos of this event will be posted to: https://www.facebook.com/NewEnglandElectricAutoAssociation 9/17/2015.


Registered Attendees
There are currently 32 attendees registered.
Owners of These Vehicles Have Registered To Attend
| | |
| --- | --- |
| Vehicle | Registered |
| Tesla Model S | 2 |
| Chevrolet Volt | 1 |
| Chevy Spark EV | 1 |
| Corbin Sparrow | 1 |
| Ford C-MAX Energi | 1 |
| Mercedes-Benz B-Class Electric Drive | 1 |
| Mitsubishi i-MiEV | 1 |
| Nissan Leaf (2011-2017) | 1 |
| Other Plug-In Vehicle | 1 |
| Smart fortwo electric drive | 1 |
| Toyota Plug-in Prius | 1 |
| Volkswagen e-Golf | 1 |
| ZeroTruck | 1 |
| 13 Models | 14 |
Registered attendees report 177,936 electric miles driven.
In the News…