National Drive Electric Week


Mt Spokane


Mt Spokane, WA




Sep 12, 2015

Loading map…
Day:
Saturday, September 12, 2015

NOTE: this event has already happened

, find current-year events on the Attend page.
Location:
Mt Spokane, WA 99021

Event Report
It was a beautiful day on top of Mount Spokane. The sky was clear and blue. We had a great view of the fresh air we were protecting.

Being in a remote location, we did not draw many of the public. Yet we were in a high-traffic area for bikers and hikers. They appreciated zero-emissions vehicles. After all, bikes and boots are great green forms of transportation.

The Think City, with its space frame and plastic body, always catches attention. The Teslas are always a conversation piece. We showed how much gear fits in a Leaf. A big surprise was when an electric engineer cruised up the hill on a scooter of his own making. His lithium-ion battery pack fit in an Otter Box he could carry around.

Some drivers used up 80-90% of their charge climbing the hill, creating some anxiety, but regenerative braking alleviated that on the way home. My Leaf left the mountain with 5 miles of range and 1 bar. I pulled into my garage 24 miles later with 14 miles and 2 bars. I learned something.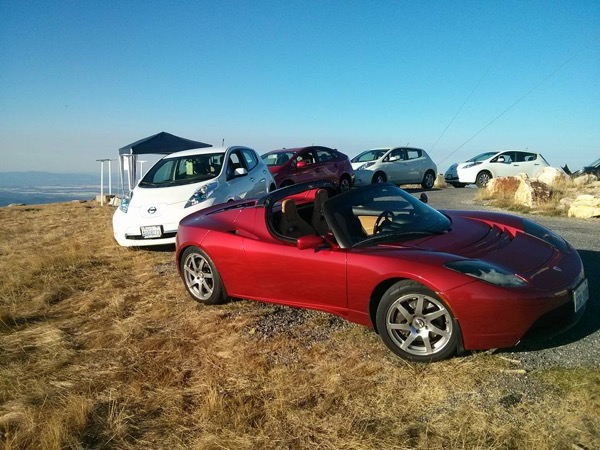 photo by: Jorgen Rasmussen


1 Tesla Roadster, 1 Toyota Prius and 3 Nissan Leafs
Event Description
In the News…