National Drive Electric Week


Juneau EV Round up 2023


Juneau, AK




Sep 23, 2023
Day:
Saturday, September 23, 2023

NOTE: this event has already happened

, find current-year events on the Attend page.
Time:
11:00 am - 1:00 pm AKDT
Location:
300 Egan Drive
Juneau, AK 99801

Event Report
After a week of rain, the Juneau EV round up was blessed with a dose of sun and rainbows for the EV round up. The Local radio station had a live program from the event where the latest makes and models of EV and EV trucks were on display. IBEW local 1547 cooked and served over 120 hamburgers and 100 hot dogs. The event included many late model EV's as well as Electric bikes and electric outboard motors. Juneau, a community of 30,000 residents now boasts over 800 electric vehicles.
Two of the sponsors, Juneau Auto Mall is the #1 Subaru EV dealer in the nation, while Juneau Affordable Sales has sold dozens of used electric vehicles in Juneau. Jueau Affordable Auto Sales raffled 4 winter tires for a Leaf or Bolt. The event celebrated many volunteers who have participated and volunteered over 10 years at the Juneau EV round up.
Several local Assembly candidates were able to discuss with the public their support for Electric Vehicles and the installation of more public charging stations to keep up with demand.

Additionally, on display was a 2013 Leaf with over 126,000 local miles on it and going strong. Our local newspaper did a great write-up of the event and for additional photos, please read the following link:

https://www.juneauempire.com/news/capital-city-celebrates-10th-annual-juneau-ev-and-e-bike-roundup/
This years sponsors: IBEW 1547, Juneau Radio Center, Juneau Hydropower, Juneau Auto Mall, Cycle Alaska. Tongass Rain Electric Outboards, Country Financial Insurance, Juneau Affordable Auto Sales, AEL&P, Juneau Economic Development Council, City and Borough of Juneau Commission on Sustainability and Juneau Bike Doctor.

Juneau Electric Vehicle Association hosted the event.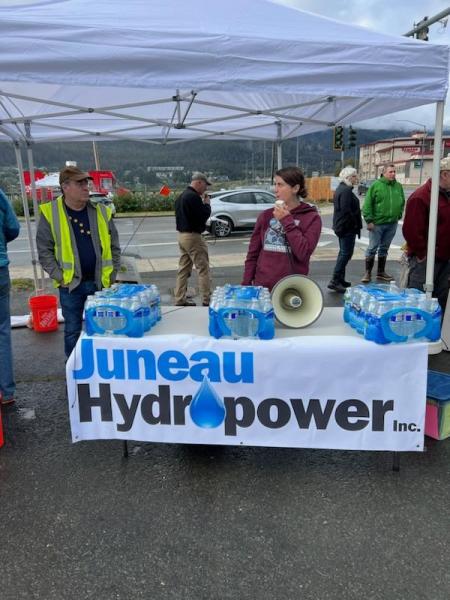 photo by: Don Kubley, Juneau Hydropower


Juneau Assembly member Christine Woll reads off the 2023 City and Borough of Juneau Proclamation commemorating the 10th annual Juneau EV round-up and National Drive Electric Week participation.
Event Description
Juneau's epic annual National Drive Electric Week event. 10th Annual (Can you believe it?)
See the latest and greatest EV's Electric Trucks, SUV's and Ebikes...including Electric dirt bikes. E-Ligntnings, Rivians, Volvo Recharge, Subaru Solterra's, VW ID4, Fisker Ocean One (if it can make the barge out of Seattle in time), and other new models to be showcased to the Juneau Public.

Family fun event. Come see and learn about new EV's and local charging options.
Juneau has over 800 Electric Vehicles and boasts a network of free charging stations. Come see the new EV trucks and vehicles and learn how driving an EV in Juneau saves you money while helping your community.
Burgers and Hotdogs provided by Juneau Hydropower Inc. Fine grill cooking conducted by your friends at IBEW 1547. Juneau Auto Mall and Affordable Auto assisting in the presentation of some cool EVs. Juneau Bike Doctor and Cycle Alaska assisting in showing off the latest and greatest E-bikes in Juneau. Juneau Radio Center provides radio advertising and marketing assistance.
Join the fun, check out the new rides, see friends and acquaintances, meet pro-EV local officials and candidates, come see why an EV makes cents for your driving future. Rain or Shine.

Registered Attendees
There are currently 32 attendees registered.
Owners of These Vehicles Have Registered To Attend
| | |
| --- | --- |
| Vehicle | Registered |
| Chevrolet Bolt | 4 |
| Nissan Leaf (2011-2017) | 4 |
| Nissan Leaf (2018+) | 2 |
| Ford C-MAX Energi | 1 |
| Lincoln Corsair AWD PHEV | 1 |
| Tesla Model S | 1 |
| Tesla Model Y | 1 |
| Volkswagen ID.4 | 1 |
| Volvo XC40 Recharge twin | 1 |
| 9 Models | 16 |
Registered attendees report 489,005 electric miles driven.