National Drive Electric Week


Central Connecticut State University


New Britain, CT




Sep 29, 2013
Day:
Sunday, September 29, 2013

NOTE: this event has already happened

, find current-year events on the Attend page.
Time:
11am- 5pm
Location:
Central Connecticut State University - Memorial Hall, Constitution Room (2nd Floor)
1615 Stanley St
New Britain, CT 06053

Event Report
Central Connecticut State Univesity (Host Site) Chief Administration Officer, Dr. Richard Bachoo, provided the opening remarks and announced that CCSU would be the recipient of a new Nissan Level 3 Charger for the campus. This will be the first CHAdeMO Quick DC Charging station in Connecticut (possibly in New England)! (We have pictures of Dr. Bachoo standing next to a Tesla Model S and, later, speaking).

Connecticut Governor Malloy released a public statement/proclamation announcing Sept 29th in Connecticut as National Plug In Day!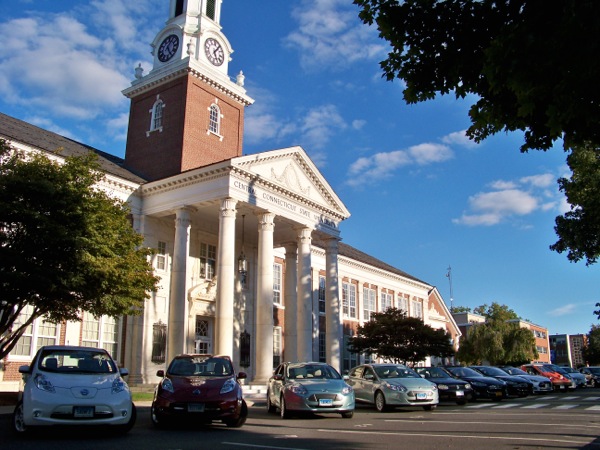 photo by: Dave Oliveria


Group shot of 10 EV/PHEVs in front of the CCSU administration building. We paused here for a group shot before our rally to the GE charging suite of ten EVSEs in Plainville, CT.
Event Description
All attendees and volunteers are required to wear face masks whenever they are within six feet of another person at all National Drive Electric Week 2022 events. Please see this information about how to improve how your mask protects you. For more information, see our in-person event safety requirements.
Thank you all for joining us at CCSU to celebrate EVs/PHEVs! We had a great turnout, thanks to you!
Here's a link to the photos from the day:
Special thanks go out to CCSU staff, exhibitors and the generous support of Nissan LEAF to make this CCSU day happen!
Hope you can join us again mid-September 2014 for the 3rd annual CCSU NPID!
Registered Attendees
There are currently 102 attendees registered.
Owners of These Vehicles Have Registered To Attend
| | |
| --- | --- |
| Vehicle | Registered |
| Chevrolet Volt | 12 |
| Nissan Leaf (2011-2017) | 10 |
| Tesla Model S | 4 |
| Other | 3 |
| BMW ActiveE | 2 |
| Ford Focus Electric | 2 |
| Ford C-MAX Energi | 1 |
| Honda Fit EV | 1 |
| Mitsubishi i-MiEV | 1 |
| Toyota Plug-in Prius | 1 |
| 10 Models | 37 |
Registered attendees report electric miles driven.