National Drive Electric Week


Chattanooga Drive Electric Festival


Chattanooga, TN




Oct 01, 2022
Day:
Saturday, October 1, 2022

NOTE: this event has already happened

, find current-year events on the Attend page.
Time:
11:00 am - 3:00 pm EDT
Location:
THE BEND
1067 Riverfront Pkwy
Chattanooga, TN 37402

Event Report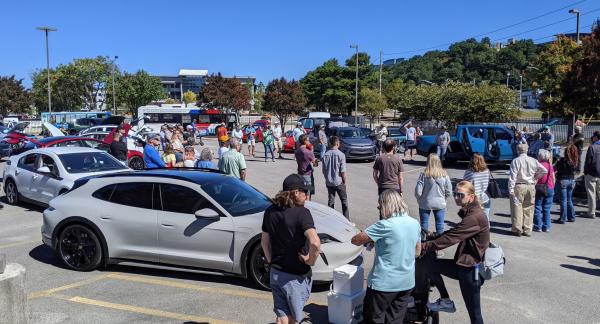 photo by: Drive Electric Tennessee


Taken at Drive Electric Scenic City's recent Drive Electric Festival. Photo provided by Drive Electric Tennessee.
Event Description
Sponsored Locally by Blink, Green | Spaces, EPB, Sierra Club, The Bend, Lee Smith, TVA, MTN View Chevrolet, and Polestar.

Message regarding weather:
Current weather models no longer show hurricane Ian passing through Chattanooga. However, this will be rain or shine due to the changing dynamics of an outdoor event so long as there is not any thunder or lightning.

---
Drive Electric Scenic City (DESC), THE BEND, Sierra Club, and Drive Electric Tennessee (DET) have come together to host Chattanooga's Drive Electric Festival. All activities, vehicles on display, local dealerships, vendors, local businesses, etc. will be held at THE BEND. Our event is FREE and open to the public.
1067 Riverfront Pkwy, Chattanooga, TN 37402
On October 1st, 11 AM - 3 PM EST

This Festival will feature all vehicles and modes of transport that can be plugged in, and that a person can ride in or on. Cars, motorcycles, eBikes, electric scooters, off-road, Commercial - cargo vans, dump trucks, day cabs, CARTA buses, garbage trucks, fleet vehicles, etc. There are also a wide variety of vendors listed below:
---
Exhibitor Cars
You can see and compare a wide range of EV models in one place. Owners and auto dealers will have numerous vehicles for show throughout the day. Expected owner vehicles include RIVIAN R1T, Ford F-150 Lighting and Mustang Mach-E, Ford E-Transit, Energica & Zero Motorcycles, Porsche Taycan, Tesla Models 3, Y, S, and X, Hyundai Ioniq 5, Kia EV6, Chevrolet Bolts and Volts, Nissan LEAF, Polestar 2, Toyota Prius Prime, Volkswagen ID.4, EV Conversions, and more.

We are adding more EVs every day.

Local dealers such as Lee-Smith of Chattanooga, Adventure Sports Innovation, Chatt eBikes, and many more, will bring models available in the Greater Chattanooga area. Knowledgeable Drive Electric Scenic City members will be available to answer your questions throughout the day. There will be an information station, utility representatives (EPB and TVA), and exhibitors featuring sustainability organizations (solar and otherwise).
---
Do you love big trucks? We do too! LEE SMITH is both a dealer in large trucks and Ford Commercial E-Transit Vans. Are you looking for more information to electrify your fleet and reduce operating fuel costs? They would love to speak with you!

---
Involved in electric Longboards, eBikes, balancing boards, eScooters, unicycles, swing cars, and much more.

If you can dream it Adventure Sports Innovation has it.
---
Looking for more info on local installers of solar. Scenic City Solar will be attending as well!

---
EPB leads the charge toward electrification with their Energy Pros along with the deployment of charging stations locally. They have once again pushed Chattanooga Forward.
---
CARTA has been a local leader in sustainable transport for many decades. CARTA's involvement in electric vehicles started in 1990 when it decided to use electric (battery-operated) buses for Chattanooga's downtown shuttle. The Downtown Electric Shuttle is the easiest way to get around Downtown Chattanooga. It's a FREE ride! Electric buses run daily from the Chattanooga Choo Choo to the Tennessee Aquarium with stops at every block in between. Convenient access to the attractions, convention center, shopping, hotels & employment sites in the Downtown area. All Shuttle buses are wheelchair accessible. Since its initiation in 1992, CARTA's Downtown Shuttle has carried millions of passengers. CARTA is now expanding boundaries with their BYD electric bus soon to go into operation on UTC's campus.
---
Since 2007, through our advocacy and incentive campaigns, education and training classes, design competitions, and other programs, green|spaces have advanced the sustainability of living, working, and building in Chattanooga.
We continue to develop new programming that advances our shared mission of meeting our responsibility to be stewards of the environment and raising the quality of life for residents and visitors.
---
Electric Bikes for all ages! They are a
full-service ebike dealer
providing new electric bike sales, service, parts, and accessories. They take trade-ins and sell reconditioned used ebikes. If you want to talk ebikes they are here to listen and provide you with what you need. They can find the right fit for you and your whole family.
---
Pedego Chattanooga is a locally-owned dealer in electric bikes. As the region's foremost electric bike experts, they put our hearts into helping you find the perfect electric bike and get the most out of it for many years to come.
---
Local EV Conversions

Meet interesting people creating their own EVs
Locally converted 97 Geo Metro by David Stephenson
---
The Sierra Club is America's oldest environmental organization originally founded on May 28, 1892. We will be joined by our
local chapter.
---
Sponsored Locally by Blink, Green | Spaces, EPB, Sierra Club, The Bend, Lee Smith, TVA, MTN View Chevrolet, and Polestar.




---
Time Line of Arrival




The EVent is

open to the public from 11 AM until 3 PM on Saturday, October 1st.

Since we are near or at full capacity, we ask participants to arrive in stages. Exhibitors should plan on arriving after 9:30 before car show participants to set up their displays and position any EVs nearby. If exhibitors arrive in a non-electric vehicle, we ask that once unloaded, you move your vehicle to a separate public parking area that is available to you at no cost. We ask that car show participants arrive after 10 AM. There will be two tent/canopies set up for sign-in; exhibitors/car participants and the public. Our goal is to have everyone situated before the event opens to the public at 11 AM.

DESC staff will direct you to your designated space. LET ME KNOW, if you're coming late or have any special requirements to stage your presence! Be aware that we have 50 EVs registered, plus 17 exhibitors, some with large commercial vehicles. If car show participants and/or exhibitors cannot remain for the entire four hours, let us know upon check-in for adequate placement. This is a RAIN OR SHINE event, so be prepared as such. I know the weather forecast seems sketchy, but we hope for the best. You are welcome to bring folding chairs to sit near your EVs. Speaking as an optimist, remember to bring sunscreen, sunglasses & hats! DESC will provide water free of charge.

See you on Saturday!

Dave Graham & Tyler Farmer

tyler@driveelectricsceniccity.org

Drive Electric Scenic City



Registered Attendees
There are currently 257 attendees registered.
Owners of These Vehicles Have Registered To Attend
| | |
| --- | --- |
| Vehicle | Registered |
| Tesla Model 3 | 7 |
| Tesla Model Y | 6 |
| Volkswagen ID.4 | 6 |
| Chevrolet Bolt | 5 |
| Rivian R1T | 5 |
| Chevrolet Bolt EUV | 4 |
| BMW i3 REx | 3 |
| E-Bike | 3 |
| Hyundai Ioniq 5 | 3 |
| Kia EV6 | 3 |
| Tesla Model S | 3 |
| Chevrolet Volt | 2 |
| EV Conversion | 2 |
| Ford Mustang Mach-E | 2 |
| Nissan Leaf (2011-2017) | 2 |
| Nissan Leaf (2018+) | 2 |
| Other Plug-In Vehicle | 2 |
| Toyota Prius Prime | 2 |
| BMW 330e | 1 |
| Chrysler Pacifica Plug-in Hybrid | 1 |
| E-Scooter | 1 |
| Energica Eva | 1 |
| Ford F-150 Lightning | 1 |
| Ford Transit Connect Electric | 1 |
| Mercedes-Benz EQS 580 4matic | 1 |
| Polestar 2 | 1 |
| Porsche Taycan | 1 |
| Tesla Model X | 1 |
| Toyota RAV4 Prime 4WD/AWD | 1 |
| Zero Motorcycle | 1 |
| 30 Models | 74 |
Registered attendees report 1,515,987 electric miles driven.