Drive Electric Event


Issaquah Spring Electric Car Show


Issaquah, WA




May 08, 2022
Day:
Sunday, May 8, 2022

NOTE: this event has already happened

, find current-year events on the Attend page.
Time:
9:00 am - 3:00 pm PDT
Location:
Triple X Rootbeer Drive In
98 NE Gilman Blvd.
Issaquah, WA 98027-2515

Event Report
We had people who find the event on media that is promoting this location which has car shows nearly every sunday. We are proud of our members for promoting the event thru chapter meetings and at other shows and earthly events. At this event we had a good mix of conversion EVs and new models. For example an Etron, a Polstar, Rivian, Ford 250 conversion, Ghia Conversion, Zero Motorcycle, and Fiat 500e. Other commercial EVs from the New Nissan LEAF to all models of the Tesla with the exception of a roadster showed up and did the digital dances that Tesla is famous for.
The weather was predicted to be showers and luckily it only sprinkled a little and the sun came out for a time. This burger joint is famous for the size of the burgers and the original root beer. This brings the families with their kids so we get lots of curious folks wanting to know how we like driving EVs.
We get more questions about how to install charging at home then in the past indicating serious interest in getting an EV.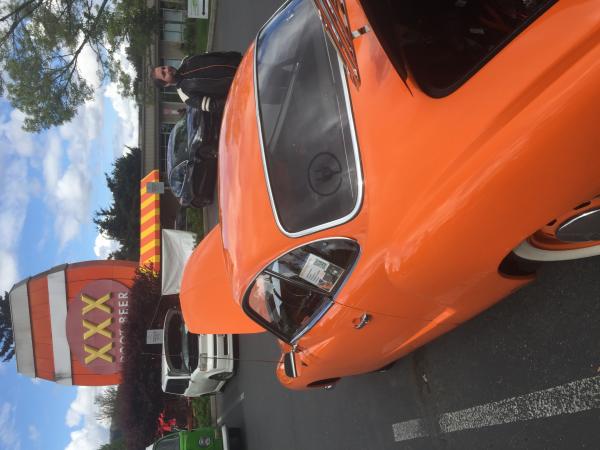 photo by: Philip Skoog


VW bus conversion, SCION conversion, Karmen Ghia Conversion at Triple X Root beer Driving Issaquah Wa May 8, 2022
Event Description
Washington State is one of the top markets for Electric Vehicles (EVs) in the country! Not only are EVs becoming more popular, but increasingly stylish models are appearing on the market from various auto makers, including:
Nissan ● Ford ● Tesla ● Smart ● Chevrolet ● Toyota ● Fiat ● Porsche ● Honda ● Mercedes ● Kia ● VW ● Mitsubishi ● BMW and many others
Registration is FREE. If you want to show your plug-in electric vehicle, register now. Space is filling up!

See production and vintage conversion vehicles on display. Talk to owners about their experiences driving EVs. Enjoy music, prizes and our special guests. Come see what is new in the world of electric driving.
Virus protocol which is typical for an outdoor event is recommended. We expect a lowering of mask requirements before the event but bring your mask just in case.
Registered Attendees
There are currently 52 attendees registered.
Owners of These Vehicles Have Registered To Attend
| | |
| --- | --- |
| Vehicle | Registered |
| EV Conversion | 5 |
| Tesla Model 3 | 4 |
| Ford Mustang Mach-E | 2 |
| Kia Niro Electric | 2 |
| Polestar 2 | 2 |
| Chevrolet Volt | 1 |
| Fiat 500e | 1 |
| Hyundai KONA Electric | 1 |
| Kia Soul EV | 1 |
| Nissan Leaf (2018+) | 1 |
| Rivian R1T | 1 |
| Tesla Model S | 1 |
| Tesla Model X | 1 |
| Zero Motorcycle | 1 |
| 14 Models | 24 |
Registered attendees report 655,005 electric miles driven.