National Drive Electric Week


Electric Vehicles in Wichita & More


Wichita, KS




Oct 02, 2021
Day:
Saturday, October 2, 2021

NOTE: this event has already happened

, find current-year events on the Attend page.
Time:
1:00 - 4:00 pm CDT
Location:
Towne East Square
7700 E. Kellogg Dr.
Wichita, KS 67207

Event Report
Michael Tann, City of Wichita Transit Director hosted a
tour of an electric city bus
and educated dozens of people. He said it was a great event and he asked to come back next year.
Kit Thompson displayed a
solar powered trailer
and helped young people see the opportunities at Cloud County College in renewable energy. He also asked to come back next year.
Towne East Square Mall
allowed us to use their parking lot and publicized the event for us. Sara Schmidtke was my contact person and actually attended the event briefly. She was very excited to host us! She asked for photos to put them on their page.
This was our biggest and best event since 2017! An amazing number of people came and a really large amount of EVs were there. A few of them stopped in after coming to the mall to shop, too!
We had drivers come from more than 2 hours away to participate. One that came the farthest was the
Mustang Mach-E
which also got a lot of attention.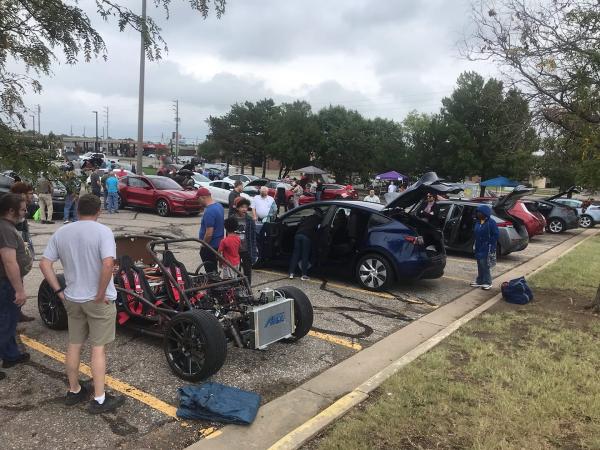 photo by: Isadora Avett


The outrageous turnout and a handmade project car. Other cars include Tesla, Nissan Leafs, Ford Mustang Mach-E, Chevy Volts and Chevy Bolts.
Event Description
Our 2021 National Drive Electric Week ICT is in person this year!
Join us at Towne East Square on Saturday,
October 2nd from 1:00 - 4:00 pm.
Come and see us on Rock Road just north of Kellogg/US 54.
Bring your EV and meet other owners. Share your experience.
Talk to owners to see why they love their vehicles.
Ask them questions about performance or comfort or anything you'd like to know.
Wichita Transit Director Michael Tann has confirmed his attendance and he will bring one of the city's Electric Buses!
Pedego Wichita is bringing e-bikes to test! Other e-bike owners will also attend!! Ride over on yours to show it off!
Look for this not-yet-street-legal Project Car from
Rustin Atkeisson

at the event.
You will also find Cloud County Community College's Renewable Energy program educational trailer on October 2nd. This is solar powered and Kit Thompson is the director of the program and will bring their drone!
We are also expecting a 2021 First Edition Mustang Mach-E to come! (Check the list of cars registered below)
Metropolitan Energy Center will bring info on charging stations throughout the state. SOAR also has a list of many of them you can pick up and take with you!
Before sitting in anyone's car, we require you to wear a mask.
If you don't feel you can do that, please do not sit inside any vehicles.
We also have free reusable masks you can take if you cannot distance from others even though we will be outdoors!

Thank you to Sara Schmidtke of
Simon Properties
for allowing us to use their space!
Registered Attendees
There are currently 54 attendees registered.
Owners of These Vehicles Have Registered To Attend
| | |
| --- | --- |
| Vehicle | Registered |
| Tesla Model 3 | 5 |
| Tesla Model Y | 5 |
| Chevrolet Bolt | 3 |
| Ford Mustang Mach-E | 2 |
| Nissan Leaf (2011-2017) | 2 |
| Tesla Model S | 2 |
| Chevrolet Volt | 1 |
| Ford Ranger EV (1997-2003) | 1 |
| Kia Niro Electric | 1 |
| Nissan Leaf (2018+) | 1 |
| Other Plug-In Vehicle | 1 |
| 11 Models | 24 |
Registered attendees report 384,948 electric miles driven.
In the News…