National Drive Electric Week


Central Valley


Central Valley, CA




Sep 28, 2013
Day:
Saturday, September 28, 2013

NOTE: this event has already happened

, find current-year events on the Attend page.
Time:
10 AM
Location:
Blackbeard's Family Entertainment Center
4055 North Chestnut Diagonal
Central Valley, CA 93727

Event Report
This is Fresno we're talking about.

The fact that 17 EV owners in the entire Valley showed up is absolutely amazing and record-setting. It's good enough for our entire 100-mile area's first event!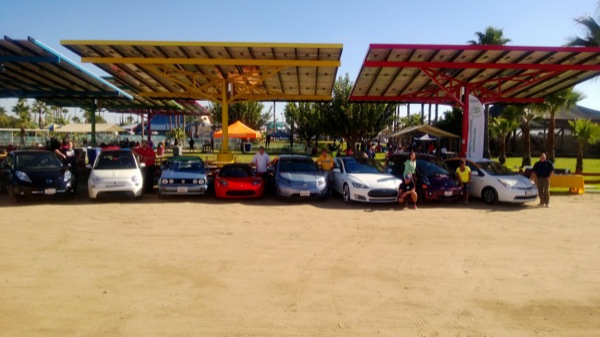 photo by: Fiat of Fresno


Matt Falcon - 2011 Nissan LEAF Dustin Monroe - 2013 Fiat 500e Barry McLemore (not in photo) - VW Golf EV conversion Lance Dunn - Tesla Roadster Steve Cosner - Chevy Volt Cory Costanzo - Tesla Model S Linda Dunn - Mitsubishi i Tom Cotter - 2006 Prius plug-in conversion
Event Description
EVs are in the Central Valley!
The event, so far, is being put together by one die-hard EV evangelist, and my name is Matt. I've helped organize EV owners in the Valley using Facebook in the Central Valley Electric Vehicles group, which I also maintain. We've missed each past year's National Plug-In Day event, and it's my goal to make sure we don't miss it again this year.
My Leaf is my only car, and people are always interested in hearing about this new technology. Fresno lacks public charging stations almost entirely - the only (true) public stations are installed at two Nissan dealerships, which are not always available. Interest in these cars abounds, but visibility and information is lacking. With this NPID event, I'd like to help change that.
Join our group if you're on Facebook, at http://bit.ly/cvevs - this is where most details are being discussed.
We'll be meeting at Blackbeard's, now finally confirmed as the location for the event. As we draw closer to the day of the event, we'll know more about exactly what's going to happen at the event. We've got our own event and parking area, as well as the ability to place banners and cars, and do test-drives/rides. Blackbeard's may also be the first truly public charging station to be installed in the Valley, and we may just be the fuel they need to get it done!
Let's make it happen, and show the valley the solution to our horrible air quality - and the amazing new technology that's bringing the fun back to driving!
Registered Attendees
There are currently 31 attendees registered.
Owners of These Vehicles Have Registered To Attend
| | |
| --- | --- |
| Vehicle | Registered |
| Mitsubishi i-MiEV | 4 |
| Nissan Leaf (2011-2017) | 2 |
| Tesla Model S | 2 |
| Chevrolet Volt | 1 |
| Tesla Roadster | 1 |
| Toyota Plug-in Prius | 1 |
| Toyota RAV4 EV (2012 and later) | 1 |
| 7 Models | 12 |
Registered attendees report electric miles driven.
In the News…