National Drive Electric Week
Frederick, MD
Sep 19, 2014
Day:
Friday, September 19, 2014

NOTE: this event has already happened

, find current-year events on the Attend page.
Time:
3pm - 8pm
Location:
MOM's Organic Market
5273 Buckeystown Pike
Frederick, MD 21704

Event Report
The event was in front of Mom's Organic Market. While there were no celebrities or politicians, we were able to talk to many ordinary people who previously had little exposure to EVs. Our list of registered models include Leafs, Volts, a Tesla Roadster, and a Honda Fit EV. We had a few surprise EVs show up including two Smart EVs. While the volume of folks going by wasn't very large, conversations tended to be more than just a minute or two. In several cases people talked to us for 15 minutes or more.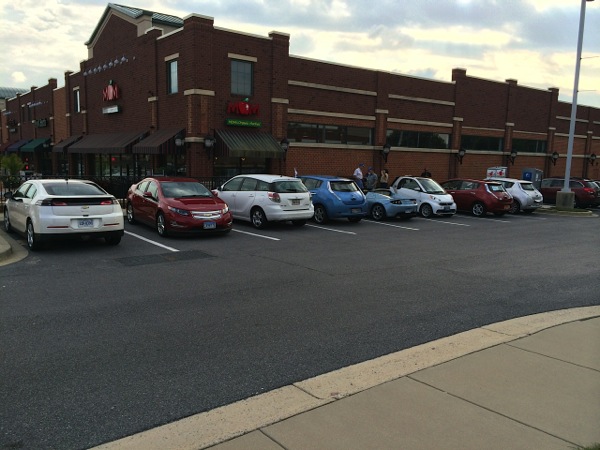 photo by: Ronald Kaltenbaugh


Unfortunately, the people are not close enough to really see their faces. The picture has seven EVs in a row of eight cars (we had one or two EVs out of the picture). From left to right we have: Volt, Volt, ICE car, Leaf, Tesla Roadster, SMART EV, Leaf, Leaf. Next to the cars on the right are the two Level 3 chargers at Mom's.
Event Description
Learn about Electric Vehicles from actual owners!
Friday, September 19, 2014

My Organic Market
5273 Buckeystown Pike
Frederick, MD
Drive Electric Week,
MOM's
, and
EVADC
bring you a chance to learn about electric vehicles. There are many
advantages to EVs including the following:
Convenience
Much lower operating costs
Fun to drive
Zero tailpipe emissions
There are many incorrect myths about EVs. This is your chance to ask questions from real people who are driving electric every day. You can also see MOM's Level 3 CHAdeMO charger.
---
Registered Attendees
There are currently 27 attendees registered.
Owners of These Vehicles Have Registered To Attend
| | |
| --- | --- |
| Vehicle | Registered |
| Chevrolet Volt | 4 |
| Nissan Leaf (2011-2017) | 3 |
| Honda Fit EV | 2 |
| Tesla Roadster | 1 |
| 4 Models | 10 |
Registered attendees report 170,028 electric miles driven.