National Drive Electric Week


National Drive Electric Week: Virtual EV Ride & Drive


Denver, CO




Oct 03, 2020
Note:
This is an online only event with no physical location.
Day:
Saturday, October 3, 2020

NOTE: this event has already happened

, find current-year events on the Attend page.
Time:
9:00 am to 10:30 am
Audience:
Denver, CO, Local Area
Host:
Denver Metro Clean Cities Coalition
Recording:
view the recorded presentation.
Topics:
EV 101
Cost of Ownership
Driving Experience
Environmental Benefits
Home Charging
Incentives
Local Public Charging
Road Trips
Workplace Charging
Event Report
Denver Metro Clean Cities
partnered with CLEER, Northern Colorado Clean Cities, 4CORE, and the Colorado Energy Office to host a Virtual Ride & Drive workshop to simulate the drive of various EV models and an E-Cargo Bike.
Summit County Sustainability Coordinator, Michael Wurzel and his guest, Summit County Commissioner Karn Stiegelmeier provided a tour of the Nissan LEAF.
Additionally,
Michael Wurzel and his guest, Tony Overlock also gave a tour of the electric cargo bike.
4CORE's Laurie Dickson and her guests, John Lyons and Gail Harriss gave insight into LEAF ownership for older adults.
Northern Colorado Clean Cities' Amy Maxey and her guest, Heath Blanton presented the Chevy Bolt.
Colorado Springs Electric Vehicle Club member
Wilson Hitchings and
Denver Metro Clean Cities' Bonnie Trowbridge and first-time
Tesla driver, Gabriella Perkins, demonstrated the smooth and thrilling drive of the Tesla Model S and Model 3, respectively. Bob Andersen presented his small but quick GEM car, and
Chad Bormann of
Global Environmental Products, Inc
showed attendees the all-electric street sweeper. Watch these videos and listen to the Q&A here.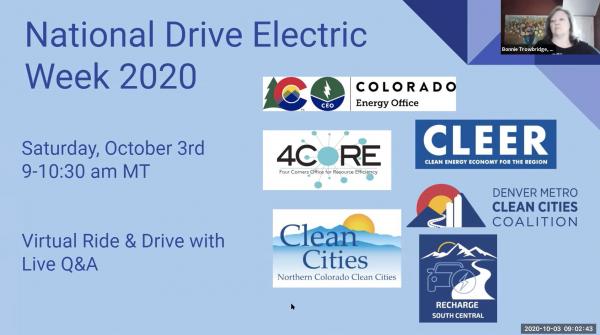 photo by: Bonnie Trowbridge, DMCC


Screen capture of Virtual Ride & Drive workshop presentation.
Event Description
Join us for this interactive online ride and drive as part of the National Drive Electric Week.
Tune in to learn about EVs driven by people around Colorado and get your questions about what it's like to drive an EV answered by real EV drivers. We will also be kicking off an EV scavenger hunt with cash prizes!
Registered Attendees
There are currently 4 attendees registered.
Owners of These Vehicles Have Registered To Attend
| | |
| --- | --- |
| Vehicle | Registered |
| Tesla Model 3 | 1 |
| 1 Model | 1 |
Registered attendees report 30,000 electric miles driven.