National Drive Electric Week
Rochester, MN
Sep 26, 2020
Day:
Saturday, September 26, 2020

NOTE: this event has already happened

, find current-year events on the Attend page.
Time:
7:30-Noon
Location:
Rochester Farmers Market
173 14th St SW
Rochester, MN 55904

Event Report
This was Rochester's second year participating in National Drive Electric week. We felt it was important to have a safe, in-person presence as we believe this is the best way to connect with and educate people looking to learn more about electric vehicles.
With the pandemic in mind we decided to not do a ride & drive event, but instead do an electric car, ebike, and charging display. We
partnered with Rochester Farmers Market as they attract an audience interested in sustainability and have great attendance for their outdoor Saturday market.
We had Tesla Model 3s, Chevy Bolt EV, Nissan Leaf, and someone decided to bring their Tesla Model Y down for an unofficial side-display. We also had a Rad Power Bikes RadRover eBike which had a lot of interest. To help people understand differences in home charging options, we created our own EV charger display to show Level 1 and Level 2 charging using a Chargepoint home charger.
All EV owners were busy the entire morning talking with people that were fairly new to EVs and others that were about ready to make the jump to electric, but needed a few final questions answered. People were appreciative of the promotional water bottles, pens, masks, and hand sanitizer from Nissan. The event materials and support from the National Drive Electric Week team has been amazing and absolutely contributed to the success of the event. We'd also like to thank EarthFest Rochester MN for their support as a sponsor of this event and other EV display events!
The Rochester area has added hundreds of EVs over the past few years and now has 430+ registered electric vehicles (and the numbers continue to grow each month).
Rochester Electric Vehicles
is proud to be a driving force in accelerating electric vehicle adoption in our area and being a part of this national and international effort.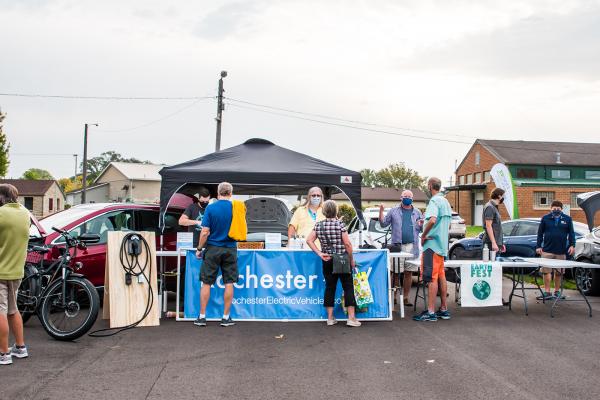 photo by: CHOOCHOO-ca-CHEW


Rochester Area EV owners talk with people interested in learning about electric cars.
Event Description
Join us for a chance to check out fully electric vehicles and talk with local owners at the Rochester Farmers Market. We'll have fully electric vehicles on display.
We'll be set up next to the coffee stand so make sure to grab a cup of joe and a treat and come learn about electric vehicles. We'll have a setup encouraging social distancing and following mandated mask orders to keep everyone safe.
At the electric vehicle display you'll be able to:
Check out fully electric vehicles Tesla Model 3, Chevrolet Bolt EV, and Nissan LEAF
Talk with local EV owners about questions and daily life with an electric car
Get some local beverages, treats, and food at Rochester Farmers Market
About Rochester Electric Vehicles
Rochester Electric Vehicles goal is to accelerate electric vehicle adoption in the Rochester area. Over 10,000 Minnesotans are now driving electric with 400+ EVs now in the Rochester area. As with anything new, it's easiest to learn from the experience of another person so we are happy to provide experiences like this to learn from your Rochester neighbors that have made the switch to electric.
Registered Attendees
There is currently 1 attendee registered.