National Drive Electric Week
San Bernardino, CA
Sep 27, 2020
Day:
Sunday, September 27, 2020

NOTE: this event has already happened

, find current-year events on the Attend page.
Time:
10-2
Location:
EV Rally starting at chargers at Inland Center Mall
San Bernardino, CA 92408

Event Report
Due to Covid-19, we changed the format of our 2020 NDEW event to be an EV Rally. We met at the Tesla Superchargers at the Inland Center Mall in San Bernardino and travelled along Historic Route 66 to Rancho Cucamonga, briefly stopping at the landmark Wigwam Motel for a photo op. One of our Inland Empire Electric Vehicle Association members designed stickers for our vehicles. We ended up at the Moreno Valley Supercharger site, where we had a lot of interest in the cars and the club.
We had about 20 Teslas (various models), 1 Audi e-tron, 2 Chevy Bolts, 4 electric motorcycles and one electric commuter van from Green Commuter. Thanks to the Inland Empire Tesla Club for getting the fantastic showing of Tesla cars. Thanks also to Green Commuter for also bringing the showstopper to the event.
We had a lot of fun during the rally and had the opportunity to talk with one another while, still following Covid19 social distancing rules.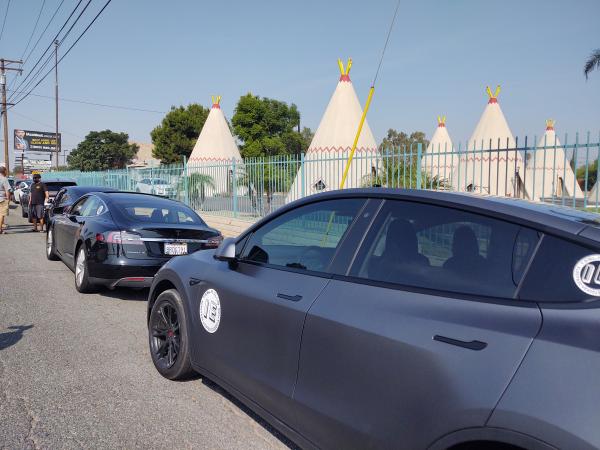 photo by: Michelle Pierce


Inland Empire National Drive Electric Week traveling along Historic Route 66 at a photo op in front of a landmark. The cars in the photo are Teslas.
Event Description
National Drive Electric Week 2020 Rally
Inland Empire Electric Vehicle Association & Tesla Club Inland Empire
Sunday, September 27, 2020 from 9AM-2PM
Inland Empire EV Rally along Historic Route 66
Meeting spot #1: Inland Center Mall – Tesla Supercharger, 500 Inland Center Drive, San Bernardino also Evgo stations
Meeting time: We will be meeting from 9AM to 10AM Depart time: 10AM
Travel route: From Inland Center Drive take 215 North and Exit 5th St, travel west on 5th St is Historic Route 66
Photo stop 1: Wigwam Motel 2728 Foothill Blvd, San Bernardino – stop on Route 66/Foothill Blvd for
everyone to get caught up and take pictures, then continue west on Route 66/Foothill Blvd
Meeting Spot #2: Legends Burgers – 8775 Baseline Rd Rancho Cucamonga 91730 – no chargers on site,
Nearby Tesla Supercharger, Evgo 1 CCS and CHAdeMO and 4 J-1772 at Victoria Gardens
Meeting Time: Proposed meeting time 11am to 12pm – Lunch break Depart Time: 12 pm
Travel Route: Travel South on Vineyard Ave to 10 East to 15 South to 60 East Riverside/Moreno Valley
Final Meeting Spot: Tesla Supercharger Riverside East/Moreno Valley - Target Shopping Center
2755 Canyon Springs Pkwy, Riverside, 92507 also ChargePoint 4 J-1772 Meeting Time: 1pm to 2pm
Please make sure you wear your masks when outside your EV's and practice social distancing.
Registered Attendees
There are currently 64 attendees registered.
Owners of These Vehicles Have Registered To Attend
| | |
| --- | --- |
| Vehicle | Registered |
| Tesla Model 3 | 7 |
| Tesla Model S | 4 |
| Tesla Model Y | 3 |
| Nissan Leaf (2011-2017) | 2 |
| Other Plug-In Vehicle | 2 |
| Tesla Model X | 2 |
| Audi e-tron | 1 |
| Chevrolet Bolt | 1 |
| Energica Ego | 1 |
| Energica Eva | 1 |
| Hyundai KONA Electric | 1 |
| Zero Motorcycle | 1 |
| 12 Models | 26 |
Registered attendees report 692,935 electric miles driven.