National Drive Electric Week
Seattle, WA
Oct 02, 2020
Day:
Friday, October 2, 2020

NOTE: this event has already happened

, find current-year events on the Attend page.
Time:
1-4
Location:
Express Credit Union
1930 6th Ave S
Suite 104
Seattle, WA 98134

Event Report
Express CU was happy to have hosted our first in person Drive Electric Event. We had a 2019 Nissan Leafe, 2015 Nissan Leaf and 2017 Tesla. All three drivers were very enthusiastic about their cars and happy to share info. We had an information table with resources provided by City of Seattle, Puget Sound Clean Air, Plug in America, Forth, Paramount Motors and Express CU. we hadn't promoted the in person event due to COVID and current event restrictions in the County. Therefore we focused on existing members and providing education and information to them. We had a prize wheel which was received well by the visitors. Thank you to Plug in America for your partnership and support. It was also great to see Jeff Finn stop by and talk to some people!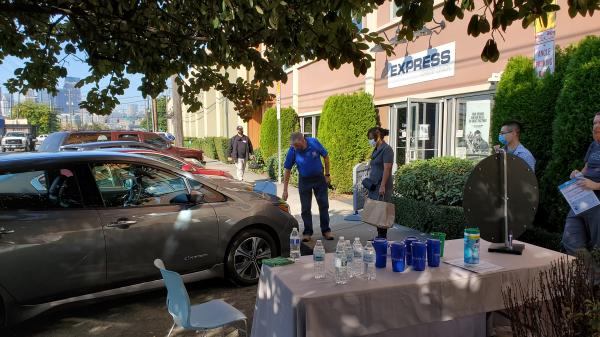 photo by: Elizabeth Escobar


Here we can see one of the EV owners speaking to an Express CU member about how to charge the car.
Event Description
This is a small in person event hosted by Express Credit Union. The event will be in front of the Credit Union at 1930 6th Ave S. Suite 104 Seattle, WA 98134. Come and talk to EV owners about their experiences driving EVs. We ask that you wear a mask and maintain a safe distance while speaking to the owners and checking out their cars! We will not offer test drives at this event. An information table about EV ownership and Express CU EV auto loans will be available as well.

Express CU in Partnership with Plug in America and the "EV for EVERYONE" initiative is offering EV Auto loans at discounted rates. Express CU and Plug in America want to expand EV auto purchases to more diverse communities and income brackets. With our partnership we can offer assistance in car buying, discounted rates and provide free membership the Plug in America's EV Assistance Hotline with they finance with Express CU. Our goal is to increase awareness, provide educational resources and have a few cars for people to look at.
Check out our site https://www.expresscu.org/borrow/electric-vehicle/

We will require that all attendees wear a mask and maintain 6 ft in distance from other visitors while visiting the event . We will not test drive vehicles but will sanitize them appropriately if needed.
Registered Attendees
There are currently 13 attendees registered.
Owners of These Vehicles Have Registered To Attend
| | |
| --- | --- |
| Vehicle | Registered |
| Chevrolet Volt | 1 |
| EV Conversion | 1 |
| Fiat 500e | 1 |
| Kia Niro Electric | 1 |
| Kia Soul EV | 1 |
| Nissan Leaf (2011-2017) | 1 |
| Nissan Leaf (2018+) | 1 |
| Tesla Model 3 | 1 |
| 8 Models | 8 |
Registered attendees report 231,895 electric miles driven.