National Drive Electric Week
Seattle, WA
Oct 02, 2020
Day:
Friday, October 2, 2020

NOTE: this event has already happened

, find current-year events on the Attend page.
Location:
Seattle, WA 98134

Event Report
Express CU was happy to have hosted our first in person Drive Electric Event. We had a 2019 Nissan Leafe, 2015 Nissan Leaf and 2017 Tesla. All three drivers were very enthusiastic about their cars and happy to share info. We had an information table with resources provided by City of Seattle, Puget Sound Clean Air, Plug in America, Forth, Paramount Motors and Express CU. we hadn't promoted the in person event due to COVID and current event restrictions in the County. Therefore we focused on existing members and providing education and information to them. We had a prize wheel which was received well by the visitors. Thank you to Plug in America for your partnership and support. It was also great to see Jeff Finn stop by and talk to some people!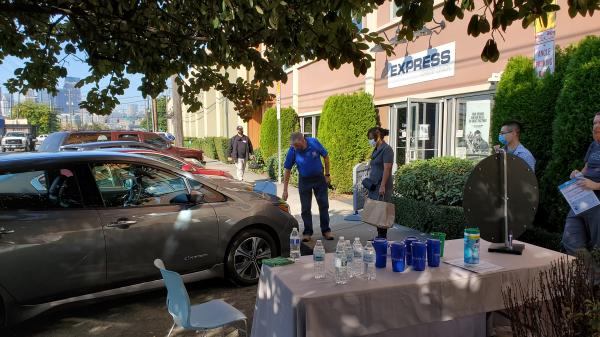 photo by: Elizabeth Escobar


Here we can see one of the EV owners speaking to an Express CU member about how to charge the car.
Event Description