National Drive Electric Week
Hattiesburg, MS
Sep 14, 2019
Day:
Saturday, September 14, 2019

NOTE: this event has already happened

, find current-year events on the Attend page.
Time:
9am- 1pm
Location:
Hattiesburg Kamper Park and Zoo - Pavilion 1
107 S 17th Ave
Hattiesburg, MS 39401

Event Report
We had 18 vehicles and 32 participants registered going into the event. We ended up having at least 25 vehicles participate and over 75 individuals at the event. Turnout was great! Local television station covered the event and most folks showed up before the event began and stayed until the end. We had representatives from local utility companies present as well as 2 dealerships with an electric vehicle on display.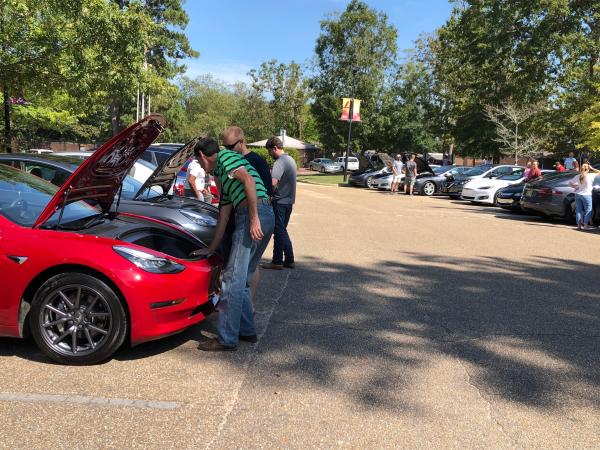 photo by: Deborah Hazel


A variety of electric vehicles on display at the National Drive Electric Week event in Hattiesburg, Mississippi. Owners and enthusiasts discuss topics ranging from ownership to legislative challenges facing the community.
Event Description
Join us on September 14, 2019 from 9am to 1pm at Hattiesburg Kamper Park and Zoo (Pavilion 1). The address is 107 S 17th Ave (near the zoo entrance). We will celebrate the beginning of National Drive Electric Week by hosting a meet where electric vehicle owners and enthusiasts can gather and share information. See various models of electric and hybrid vehicles and ask questions you may have to owners who drive these vehicles daily.
There are 2 J-1772 charging stations near the pavilion where charging demonstrations will take place. Electric vehicles can charge for free at this location. For a chance to win $250, register to attend or participate and complete a short survey.
Registered Attendees
There are currently 40 attendees registered.
Owners of These Vehicles Have Registered To Attend
| | |
| --- | --- |
| Vehicle | Registered |
| Tesla Model 3 | 8 |
| Tesla Model S | 4 |
| Chevrolet Volt | 2 |
| BMW i3 | 1 |
| Chevrolet Bolt | 1 |
| Ford C-MAX Energi | 1 |
| Honda Clarity Plug-in Hybrid | 1 |
| Mercedes-Benz B-Class Electric Drive | 1 |
| 8 Models | 19 |
Registered attendees report 240,960 electric miles driven.