National Drive Electric Week
Charlotte, NC
Sep 18, 2019
Day:
Wednesday, September 18, 2019

NOTE: this event has already happened

, find current-year events on the Attend page.
Time:
11-2pm
Location:
Levine Avenue of the Arts
137 Levine Avenue of the Arts
Charlotte, NC 28285

Event Report
This was the City of Charlotte's largest and most successful National Drive Electric Week event yet. This year the City partnered with the Centralina Clean Fuels Coalition and sponsored by Nissan North America and Duke Energy. The event was held downtown and encompassed the entire length of the Levine Ave of the Arts. Hundreds of participants visited "Electric Avenue" where they were introduced to a multitude of electric vehicles and were able to able to learn about the City's Strategic Energy Action Plan from Assistant City Manager Angela Lee. It was an electrifying day filled with sunshine, great music, and glimpse into the changing world of sustainable transportation options.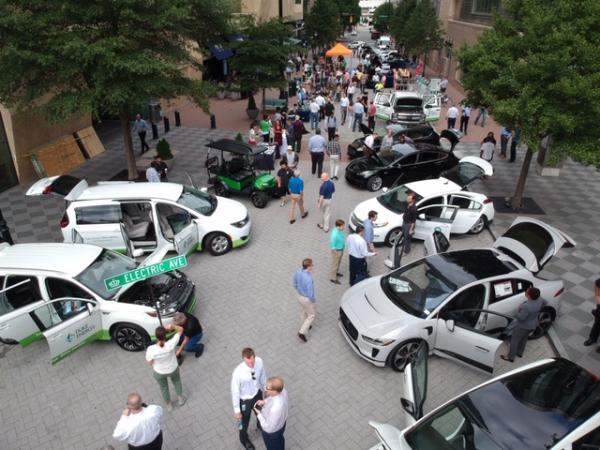 photo by: Andrew Wojton


Charlotte's "Electric Avenue" National Drive Electric Week event with vehicles and community organizations.
Event Description
Come join the party! We are throwing a party for National Drive Electric Week 2019. Join us for music, guest speakers, and a display of the latest EVs on the market. See what vehicles the City of Charlotte has added to their fleet and talk to fleet managers about the savings. Our community partners will be on the scene talking about clean air initiatives and there will be giveaways! Bring the whole family to see why you should switch to electric!

Registered Attendees
There are currently 106 attendees registered.
Expected Display Vehicles
| | |
| --- | --- |
| Vehicle | Registered |
| Tesla Model 3 | 6 |
| Other Plug-In Vehicle | 4 |
| Chevrolet Volt | 3 |
| Tesla Model S | 3 |
| BMW i3 | 2 |
| Chevrolet Bolt | 2 |
| Fiat 500e | 2 |
| EV Conversion | 1 |
| Tesla Model X | 1 |
| Toyota Plug-in Prius | 1 |
| 10 Models | 25 |
Registered attendees report 419,894 electric miles driven.
In the News…