National Drive Electric Week
Etobicoke, ON
Sep 20, 2014
Day:
Saturday, September 20, 2014

NOTE: this event has already happened

, find current-year events on the Attend page.
Time:
12 noon till 4 pm
Location:
Baka Mobile
630 The East Mall
Etobicoke, ON M9B 4B1

Event Report
LOL We had a TESLA S Performance who took many people for a flight. Wow! My neck is still recovering. We also had a Cadillac ELR that drew a lot of attention. So, 1 Cadillac ELR, 4 Volts, 8 LEAFs, 2 TESLA Ss, 1 Ford Focus e, 1 Mitsubishi iMEV, 2 Smart For Two e, 1 Plug in Toyota Prius. CHCH TV from Hamilton was present and did a nice reporting of the event for their 6 and 11 o'clock news. (My friends posted on FB that they saw me as I answered questions on camera.) It seemed that of the families who were present, it was the fathers who were encouraging the family to invest in an EV. But also, it was a female whose real estate company had their employees looking at EVs as contemporary transportation to transport clients to prospective houses. We had one BEV - unicycle. ;)

All in all, it was a very good day for EV owners and guests; much better than I had expected.
Event Description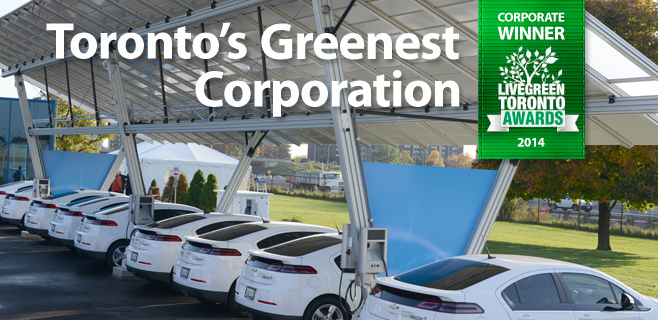 On September 20, 2014 from 12 noon till 4 pm, EV owners in the area will be available to answer questions about their use of Electric Vehicles other wise known as EVs. Come on out and ask real people their ideas and opinions as you make up your mind if an EV is right for you and your family. Some owners would love to take you out on the road to experience an electric vehicle.
May 30, 2014 – TORONTO
Live Green Toronto announced its annual award winners on Friday May 30, 2014, with the Corporate Award going to Baka Mobile for its dramatic reduction of their CO2 emissions.
In 2012, Baka Mobile took a giant leap in its carbon footprint reduction through the installation of a first of its kind solar charging station in North America. Furthermore, it converted 60 percent of its fleet to extended range electric vehicles. Baka's Solar Charging station has the capacity to charge up to 8 vehicles under its canopy and generates enough electricity for 160,000 EV kilometres per year. Baka's solar charging station is open to the public and with its convenient location (just off the 427 at Rathburn Road) it's easy for local and travelling EV car owners to stop for a free charge. The additional benefit is any unused energy is fed back to the grid. Baka also has an assistance program to help their employee's transition into EV cars.
Registered Attendees
There are currently 25 attendees registered.
Owners of These Vehicles Have Registered To Attend
| | |
| --- | --- |
| Vehicle | Registered |
| Nissan Leaf (2011-2017) | 6 |
| Chevrolet Volt | 3 |
| Tesla Model S | 3 |
| Mitsubishi i-MiEV | 1 |
| Smart fortwo electric drive | 1 |
| 5 Models | 14 |
Registered attendees report 162,500 electric miles driven.