National Drive Electric Week
Newark, DE
Sep 11, 2018
Day:
Tuesday, September 11, 2018

NOTE: this event has already happened

, find current-year events on the Attend page.
Time:
9 a.m. - 3 p.m.
Location:
University of Delaware Trabant Student Center
17 W Main St,
Newark, DE 19716

Event Report
The event, sponsored by the Delaware Sierra Club, the University of Delaware, and the Delaware Clean Cities Coalition, had three components: an electric vehicle display, vendor tables, and presentations on electric vehicles and clean transportation. In total, the event had six vehicles on display, five vendors, and eight presentations. As the event was held in the Trabant Student Center at the University of Delaware, attendees included students, parents, faculty, and members of the public.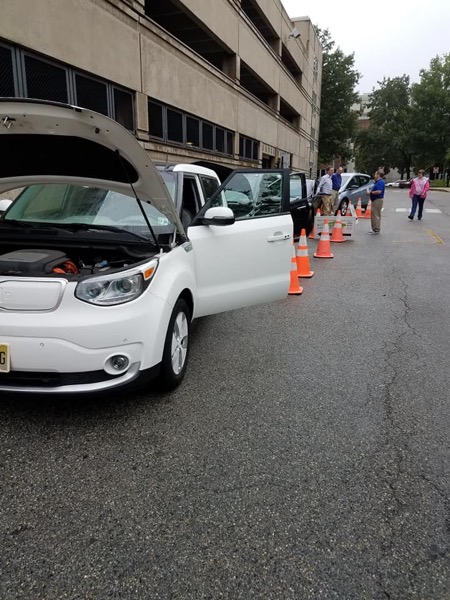 photo by: Kathy Harris, DNREC


Electric vehicles on display! Pictured: Kia Soul EV, Tesla Model 3, Chevy Bolt, Tesla Model S.
Event Description
Come and view a variety of electric and plug-in hybrid vehicles, interact with owners and dealerships, and learn more about the leading clean transportation research at the University of Delaware. Relevant community partners will be present at the event to provide you with more information about clean transportation and programs available in Delaware. This event is free.

If you have an electric vehicle you would like to display, please register to attend using the blue "Register" button at the top of this page and wait until you receive a response from the city captain.
Registered Attendees
There are currently 24 attendees registered.
Owners of These Vehicles Have Registered To Attend
| | |
| --- | --- |
| Vehicle | Registered |
| Chevrolet Bolt | 3 |
| Tesla Model 3 | 2 |
| Tesla Model S | 2 |
| Cadillac ELR | 1 |
| Chevrolet Volt | 1 |
| Kia Soul EV | 1 |
| Nissan Leaf (2011-2017) | 1 |
| Nissan Leaf (2018+) | 1 |
| Tesla Model X | 1 |
| 9 Models | 13 |
Registered attendees report 186,444 electric miles driven.