National Drive Electric Week
Long Beach, CA
Sep 08, 2018
Day:
Saturday, September 8, 2018

NOTE: this event has already happened

, find current-year events on the Attend page.
Time:
9 am to 2 pm
Location:
George's 50's Diner
4390 Atlantic Avenue
Long Beach, CA 90807

Event Report
We had our event on 9/8/18 from 9 am to 2 pm at George's 50's Diner, 4390 Atlantic Ave, Long Beach, CA 90807. The vehicles available for rides and drives were:

• 3 Chevrolet Volt
• 1 Chevrolet Bolt
• 1 Honda Fit
• 1 Volkswagen eGolf
• 4 Teslas (2 model 3s, 1 model S, and 1 Roadster)
• 1 Nissan Leaf

We had 3 exhibitors:

1. Plug In America
2. EnergyCenter.Org aka Clean Vehicle Rebate Project
3. Dr Pooch sold children's books on health and water conservation

We were prepared with the necessary tools to register people, have them sign the waiver, complete surveys and get wristbands. The event was festive with balloons and most people showed up on time to setup.

We learned dealers are not really eager to participate in these events even though it seems like free marketing for them. We learned more about the industry from some very passionate EV owners that explained why the dealers are not as excited about these events and EVs as much as we had assumed they would be.

Marketing could have been more geared towards making this a gathering of EV enthusiasts. Now knowing Tesla EV owners are very passionate and involved, Tesla would have been used in the marketing of the event. Next year, we will use a committee that was formed of volunteers who met at this year's event so it will have more community involvement. We now have a direct contact with the local Nissan EVOM so he will be engaged to help a lot sooner than this year.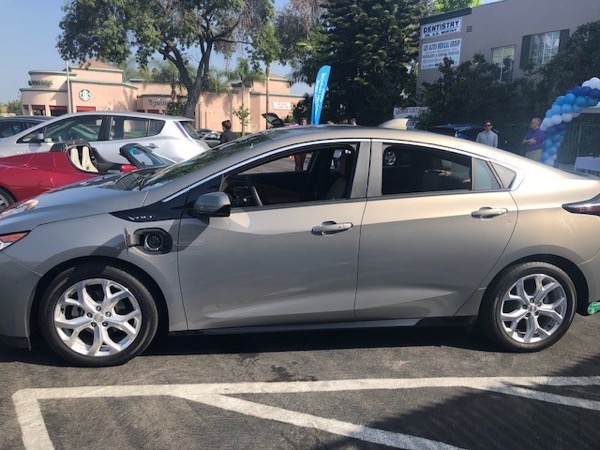 photo by: LA LISC


Chevy Volt is in the photo and behind it a red Tesla Roadster.
Event Description
All attendees and volunteers are required to wear face masks whenever they are within six feet of another person at all National Drive Electric Week 2022 events. Please see this information about how to improve how your mask protects you. For more information, see our in-person event safety requirements.
Join us Saturday, September 8th at
George's 50's Diner in Long Beach
Electric vehicles (EVs) are fun to drive, are less expensive and more convenient to fuel than gasoline
vehicles, are better for the environment, promote local jobs and reduce our dependence on petroleum.

Don't miss out on our 2018 event!
• Experience the excitement of driving a range of EVs

• Learn about rebate programs

• Find out more about EV federal and state incentives

• Bring the family to enjoy food, vendors, EV displays and lots of fun!



First 150 test drivers get FREE coupons for food from participating food vendors

Valid drivers license required to test drive vehicles
Registered Attendees
There are currently 59 attendees registered.
Owners of These Vehicles Have Registered To Attend
| | |
| --- | --- |
| Vehicle | Registered |
| Nissan Leaf (2011-2017) | 3 |
| Tesla Model 3 | 3 |
| Chevrolet Bolt | 2 |
| Chevrolet Volt | 2 |
| BMW i3 REx | 1 |
| Chevy Spark EV | 1 |
| EV Conversion | 1 |
| Honda Clarity Plug-in Hybrid | 1 |
| Honda Fit EV | 1 |
| Kia Soul EV | 1 |
| Nissan Leaf (2018+) | 1 |
| Tesla Model S | 1 |
| Tesla Roadster | 1 |
| Volkswagen e-Golf | 1 |
| 14 Models | 20 |
Registered attendees report 472,131 electric miles driven.