National Drive Electric Week
Louisville, KY
Sep 15, 2018
Day:
Saturday, September 15, 2018

NOTE: this event has already happened

, find current-year events on the Attend page.
Time:
1:30 - 3:30 (outside) 3:30 - 5:30 (pharmacy bldg)
Location:
Sullivan University
School of Pharmacy parking lot
2100 Gardiner Ln.
Louisville, KY 40205

Event Report
This was a history making event. It was the largest display of electric vehicles in Kentucky's history. We had 50 EVs (very impressive for our state) and many makes and models even a Tesla Roadster (again very rare in KY). We had the TARC electric bus on display and some small fleet vehicles. It was very hot, but everyone enjoyed the event. We also did a screening of the film CHARGE.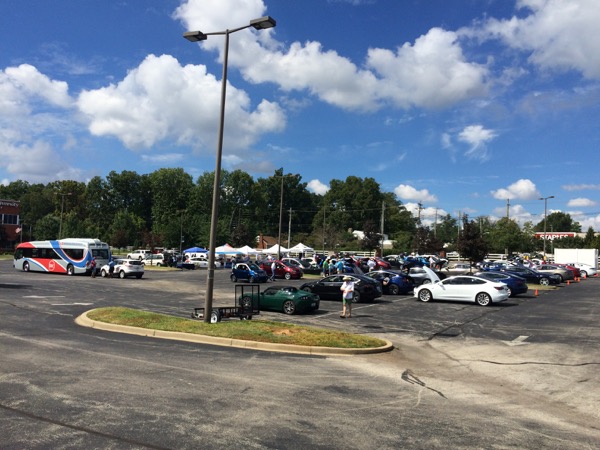 photo by: Ben Evans


History making EV meet-up ride and drive. 50 EVs (impressive for Kentucky)!
Event Description
Join us for our 4th annual EV ride and drive at Sullivan University. The fun starts in the Sullivan School of Pharmacy parking lot (near the Tesla Superchargers) where you can view all kinds of electric vehicles. New for this year will be an EV Fleet Showcase featuring fleet vehicles from area businesses and organizations! There will also be a Solar Electric Showcase.
Then, stay for a screening of the film CHARGE in the Pharmacy Building.
CHARGE captures a pivotal moment in motor sport history: the advent of high-speed, zero-emissions racing. It came on June 12th 2009, the day of the world's first zero-emissions motorcycle grand prix. The race took place on the Isle of Man TT course, the most demanding and deadly circuit on the planet. CHARGE is the dramatic and highly entertaining inside story of an unlikely group of pioneers - obsessed visionaries, ambitious businessmen, new-tech eccentrics, government ministers and hardcore racers - from as far afield as India, the USA, Germany and Britain. CHARGE is about the future. It's about change. It's about the dream of a clean, green world. It's about the dream of winning.

Registered Attendees
There are currently 52 attendees registered.
Owners of These Vehicles Have Registered To Attend
| | |
| --- | --- |
| Vehicle | Registered |
| Tesla Model 3 | 5 |
| Nissan Leaf (2011-2017) | 3 |
| Tesla Model S | 3 |
| Chevrolet Bolt | 2 |
| Chevrolet Volt | 2 |
| Mitsubishi i-MiEV | 2 |
| Tesla Model X | 2 |
| Chrysler Pacifica Plug-in Hybrid | 1 |
| Fiat 500e | 1 |
| Ford Focus Electric | 1 |
| Other Plug-In Vehicle | 1 |
| Tesla Roadster | 1 |
| Volkswagen e-Golf | 1 |
| 13 Models | 25 |
Registered attendees report 360,485 electric miles driven.