National Drive Electric Week
Baltimore, MD
Sep 20, 2014
Day:
Saturday, September 20, 2014

NOTE: this event has already happened

, find current-year events on the Attend page.
Time:
11 AM to 4 PM
Location:
Maryland Science Center
601 Light St
Baltimore, MD 21230

Event Report
Mark Czajka, Director, MD Volt Inc. organized the event. During a presentation and award ceremony, Mark read a Proclamation from Mayor Stephanie Rawlings-Blake, proclaiming September 15-21, 2014 as "National Drive Electric Week" in Baltimore. MD Volt Inc. presented "Best Place to Plug In" Awards to Montgomery and Howard Counties for their recent legislation combating ICING of electric vehicle charging spaces. Tommy Heyboer, Legislative Aide & Deputy Chief of Staff, Office of Council member Hans Riemer, received the award for Montgomery County. Tommy Underwood, Special Assistant to Council member Jen Terrasa, received the award for Howard County. Also attending were Jill Sorensen, Baltimore-Washington Electric Vehicle Initiative (BEVI) Executive Director and Board Member and Dina Beaumont, daughter of the late Bob Beaumont. Bob Beaumont created and built the CitiCar and the Tropica electric vehicles.

Additional Photos: http://bit.ly/1shDHXm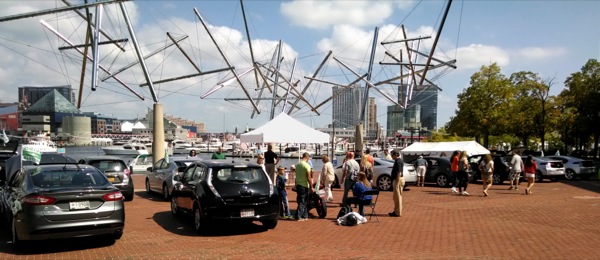 photo by: Mark Czajka


Maryland Science Center plaza area facing Baltimore's Inner Harbor: Ford Fusion Energi, Nissan LEAF, Zero Motorcycle, Chevrolet Spark EV, Toyota Plug In Prius, Cadillac ELR, Chevrolet Volt
Event Description
All attendees and volunteers are required to wear face masks whenever they are within six feet of another person at all National Drive Electric Week 2022 events. Please see this information about how to improve how your mask protects you. For more information, see our in-person event safety requirements.
THANKS TO EVERYONE WHO PARTICIPATED! PHOTOS ARE BEING POSTED HERE:
MD Volt Inc. presents the
fun
of riding in or driving an electric car at the Maryland Science Center on Saturday, September 20th
from 11 a.m. to 4 p.m.
Talk with EV owners about the benefits of driving electric.

Learn how easy it is to charge an electric car.

Learn about EV Rebates and Tax Incentives.

See related Green Technologies.

Receive free giveaways, celebrate award presentations and more.

Event is open to everyone.
Register today, drive or ride in a car at the event, and win a free t-shirt or prize (while supplies last).

You could also win a family membership to the Maryland Science Center!
Click Here!
Each driver who registers an EV will get a Perks For Plug-Ins Gift Bag which will include 2 free tickets to the
Maryland Science Center as well as other goodies!
ATTN DEALERS: SPONSORSHIP NOT REQUIRED TO PROVIDE RIDE & DRIVES! CONTACT US ASAP

AT MARK@MDVOLT.ORG IF YOU WOULD LIKE TO PARTICIPATE.
PARKING INFO:
NOTE: MSC WILL ONLY VALIDATE PARKING IF YOU HAVE PURCHASED A TICKET TO THE CENTER! WE ENCOURAGE YOU TO USE MASS TRANSIT TO GET TO THE INNER HARBOR ON SATURDAY!
Sponsored by:

Ride & Drive Sponsors:
Sheehy Nissan Glen Burnie (2 Nissan LEAFs)

Northwest BMW (1 BMW i3 w/ REX)

Bob Davidson Ford Lincoln (1 Ford Fusion Energi)

Tentative Event Map

Ride & Drive Maps
Registered Attendees
There are currently 130 attendees registered.
Owners of These Vehicles Have Registered To Attend
| | |
| --- | --- |
| Vehicle | Registered |
| Chevrolet Volt | 12 |
| Nissan Leaf (2011-2017) | 7 |
| Tesla Model S | 3 |
| Ford C-MAX Energi | 2 |
| Ford Fusion Energi | 2 |
| Other Plug-In Vehicle | 2 |
| Chevy Spark EV | 1 |
| Tesla Roadster | 1 |
| Think City | 1 |
| Toyota Plug-in Prius | 1 |
| Zero Motorcycle | 1 |
| 11 Models | 33 |
Registered attendees report 506,335 electric miles driven.
In the News…