Drive Electric Event
Raleigh, NC
Sep 28-29, 2018
Days:
September 28-29, 2018

NOTE: this event has already happened

, find current-year events on the Attend page.
Time:
09/28 5:30p-7:30p & 09/29 10:00a-12:30p
Location:
Outside Close-King Indoor Practice Facility, Next to Carter Finley Staduim, at corner of Westchase Blvd. & Peter Karmanos Jr. Dr. in Raleigh NC
4600 Trinity Road
Raleigh, NC 27607

Event Report
We held the hurricane delayed close to National Drive Electric Week on September 28th & 29th in Raleigh NC. On the evening of September 28th, we held a driver meetup and car show. Between OEMs, dealers and owners, we had 27 vehicles. The local Tesla Owners Group had a strong showing with the complete Tesla lineup at the show and several model duplicates. Discussion and comparison of experiences were interesting and valuable.

For September 29th, we held a car show tied to the NC State University vs. University of Virginia football game. There were 15 vehicles on display. With the football game crowd, we had significant foot traffic for the 2.5 hours we were setup before kickoff. It is estimated that we had 2,500 people walk through the display. The contrast to the Friday night event was that many of our attendees/browsers were unfamiliar with electric vehicles. Having several owners there with their vehicles and being able to answer questions and tell their experience had a significant impact on our reception. Most were excited and interested with a few that skeptics.

Overall, both events were considered a success and similar will be planned for next year.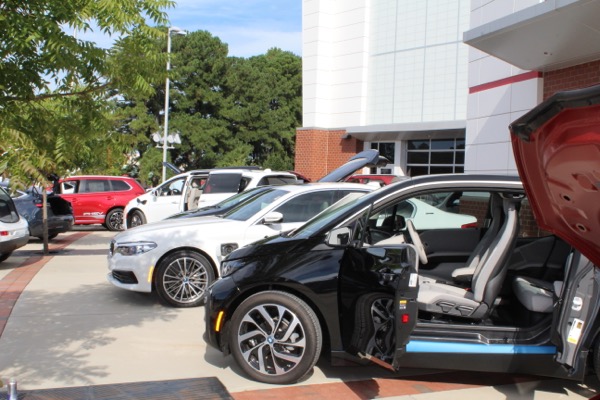 photo by: Rick Sapienza/Nicole Deck NC Clean Tech Center


NDEW Car Show at NC State Football Game. Hosted by the NC Clean Energy Technology Center.
Event Description
EVENT POSTPONED DUE TO SEVER WEATHER THREAT. New dates September 28-29, 2018. The Friday evening, September 28th, meetup will have the same times and location, as the previously scheduled event. The Saturday event will be tied to the NCSU vs. Virginia football game will be 10:00a-12:30p. Game kickoff is at 12:20p.

Please join the NC Clean Energy Technology Center for an electric vehicle demonstration and tailgate for the NC State University versus University of West Virginia football game weekend to close out National Drive Electric Week. Plug-in electric vehicles will be showcased. There will be a car show and driver meet-up on Friday afternoon, September 14th, from 5:30p to 7:30p. For game day, September 15th, there will be an electric vehicle show from 1:00p-3:30p. (Kick-off is at 3:30p.) Come see and learn more about driving with the electricity. Also, learn about how you can own one. The car show and meet-up on Friday will be open to the public. For game day on Saturday, unless you have a parking pass and tickets to the game, it might be best to avoid the traffic and crowds. Both events will be held outside the new Close King Indoor Practice Facility next to Cater Finley Stadium. Game day at Carter Finley Stadium attracts more than 60,000 fans and support staff. The event will be featured on the Wolfpack Football Game Day site and promoted by Wolfpack Social Media. This will be a fun event that generates lots of exposure to the availability and capabilities of electric vehicles.
Registered Attendees
There are currently 60 attendees registered.
Owners of These Vehicles Have Registered To Attend
| | |
| --- | --- |
| Vehicle | Registered |
| Tesla Model 3 | 8 |
| Nissan Leaf (2011-2017) | 3 |
| Chevrolet Volt | 2 |
| Nissan Leaf (2018+) | 2 |
| Tesla Model S | 2 |
| Tesla Model X | 2 |
| Chevrolet Bolt | 1 |
| Chevy Spark EV | 1 |
| EV Conversion | 1 |
| Fiat 500e | 1 |
| Kia Soul EV | 1 |
| Tesla Roadster | 1 |
| Toyota RAV4 EV (2012 and later) | 1 |
| 13 Models | 26 |
Registered attendees report 363,864 electric miles driven.