National Drive Electric Week
Issaquah, WA
Sep 16, 2018
Day:
Sunday, September 16, 2018

NOTE: this event has already happened

, find current-year events on the Attend page.
Time:
9 am to 3 pm
Location:
Triple X Rootbeer
98 NE Gilman Blvd
Issaquah, WA 98027-2515

Event Report
We had a very good turn out considering that it rained a lot off and on. We had good burger sales which is a measure of the public attendance. We did good outreach and had a chance between showers to take photos and send them to the owners email. We then ask them if they wanted to be invited by email to our next EV shows.

I want to thank Virginia Winslow for the idea of the photos to document the cars and owners and as a give back of the photosto this same owners for their attendance.

Great to have the nDEW web pages for teaching others how to do a great WV show. Keep up the great work and thanks to Tom S for how care in web management and the City Capt.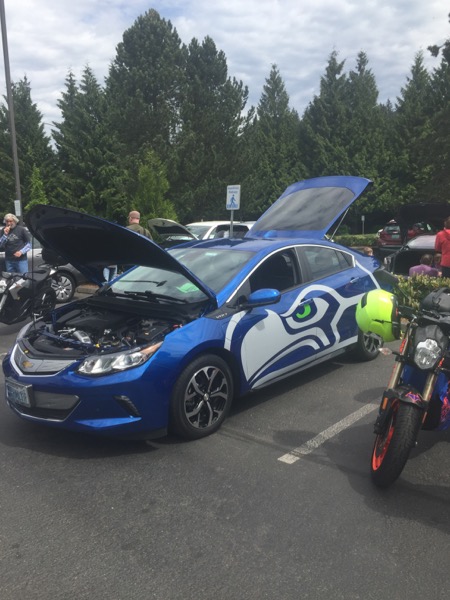 photo by: Virginia Winslow


Sports Fan shows off their EV conversion and team logo
Event Description
At this location Electric Vehicle shows are being held May 6th, 2018 and September 16th, 2018.

Our Fall Show hosted by the Seattle Electric Vehicle Association will again take place in the Electric Vehicle friendly city of Issaquah, a short drive east of Seattle right off I-90. The location is the historic Triple X Root Beer Drive-In: a monument to the history of motoring and a regional destination famous for its weekly car shows.

Washington State is one of the top markets for Electric Vehicles (EVs) in the country! Not only are EVs becoming more popular, but increasingly stylish models are appearing on the market from various auto makers, including:
Nissan ● Ford ● Tesla ● Smart ● Chevrolet ● Toyota ● Fiat ● Porsche ● Honda ● Mercedes ● Kia ● VW ● Mitsubishi ● BMW and many others
Registration is FREE. If you want to show your plug-in electric vehicle, register now. Space is filling up!

See production and vintage conversion vehicles on display. Talk to owners about their experiences driving EVs. Enjoy music, prizes and our special guests. Come see what is new in the world of electric driving.
Last May we had 59+ EVs on display representing more than 1.5 million oil-free miles! The event also included lots of fun activities such as a scavenger hunt with prizes, student robotics teams and some great exhibits by Puget Sound Solar, Torklift Central, 8th Street EVO, and other vendors.
Our special guests represent the breadth of enthusiasts and leaders in the community of drivers, business, and government.
In prior years, our VIP guests included White Zombie's John Wayland, Issaquah Mayor Fred Butler, state Representative Chad Magendanz, King County Council Chair Larry Phillips, and Charles Knutson Senior Policy Advisor Washington State Transportation & Economic Development.
RSVP to our complimentary registration below and get one FREE raffle ticket with prizes such as manufacturers test drives, Triple X Rootbeer burgers, EV merchandise, local vendor gifts, and more!
Registered Attendees
There are currently 134 attendees registered.
Owners of These Vehicles Have Registered To Attend
| | |
| --- | --- |
| Vehicle | Registered |
| Tesla Model 3 | 9 |
| Nissan Leaf (2011-2017) | 6 |
| Chevrolet Bolt | 5 |
| Tesla Model S | 5 |
| Fiat 500e | 3 |
| Tesla Model X | 3 |
| BMW i3 REx | 2 |
| Chevrolet Volt | 2 |
| EV Conversion | 2 |
| Other Plug-In Vehicle | 2 |
| Zero Motorcycle | 2 |
| Ford Focus Electric | 1 |
| Kia Soul EV | 1 |
| Mitsubishi i-MiEV | 1 |
| Nissan Leaf (2018+) | 1 |
| Smart fortwo electric drive | 1 |
| Toyota Plug-in Prius | 1 |
| Toyota RAV4 EV (1997-2003) | 1 |
| Toyota RAV4 EV (2012 and later) | 1 |
| 19 Models | 49 |
Registered attendees report 1,029,687 electric miles driven.