National Drive Electric Week
West Hartford, CT
Sep 08, 2018
Day:
Saturday, September 8, 2018

NOTE: this event has already happened

, find current-year events on the Attend page.
Time:
9:00 AM - 1:00 PM
Location:
Kingswood Oxford School
170 Kingswood Road
(Parking at Trout Brook Drive Entrance - Roberts Theater)
West Hartford, CT 06119

Event Report
The event was a huge success and we had speeches given by Oz Griebel (Candidate for Governor), Tom Dillow (Head of School - Kingswood Oxford), and Shari Cantor (Mayor of West Hartford) in addition to the presentation of an "Official Statement" from the governor's office. Estimated attendance was 300-500 people and there was a steady flow throughout the whole day. We had great food vendors and a lot of student/teacher's attend as well. Filled up to capacity.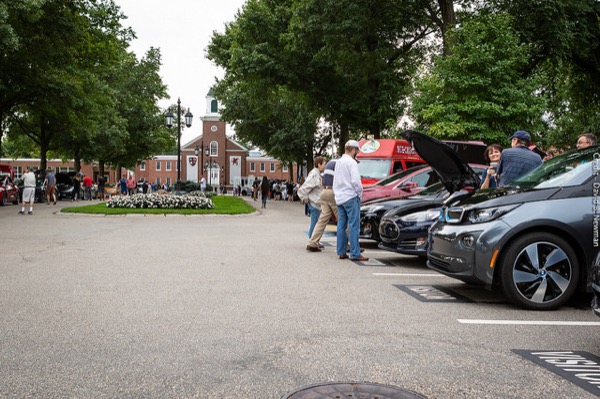 photo by: David B. Newman


1st Annual Wyvern Robotics Electric Car Show
Event Description
MORE SPACE NOW AVAILABLE AT OUR EVENT! spots filling up fast! contact us if you want to be a sponsor at the event.



Have an electric or pluG-in hybrid CAR? Want to learn more about them? Want to learn more about robotics and stem?
Come join us at Kingswood Oxford School on Saturday, September 8th for an electric vehicle showcase and robotics demo!


The EV Car Show is to be held on Saturday, September 8th, 2018 at the Kingswood Oxford School to promote the conversion to sustainable electric vehicles in the Hartford area. This EVent (pun intended) is organized by the Wyvern Robotics Team of Kingswood Oxford School in collaboration with the West Hartford Clean Energy Commission. The goal of the EVent is to give refugees (IRIS) the opportunity to take part in interactive, mentor-based STEM programs, in addition to promoting the use of electric vehicles in the Hartford area. We hope to engage members of the community, political leaders, local car dealerships, and local businesses in our electric vehicle car show, and to promote the idea that young people can become science and technology innovators.
Admission to the event is FREE, though any proceeds from donations made at the EVent will be given to IRIS (New Haven, CT). The robotics team is committed to visiting and assisting these young children in learning about robotics, creating STEM leaders who will engineer the electric vehicles of the future.
Food Vendors: SPoT Coffee, Nana's Ice Cream Truck, Grant's Restaurant, Restaurant Bricco, Plan B Burger West Hartford, Ice Cream Time

Dealerships: Schaller Auto World, Hoffman Auto Group, Carter Chevrolet

Presenters: Sunrun Solar, Mark's Motorsports, CT Green Bank, Delamar Hotel, Butler Equipment
Community Leaders in Attendance: Oz Griebel (gubernatorial candidate), Thomas Dillow (Head of School - Kingswood Oxford), Shari Cantor (tentative conf. Mayor - West Hartford), Art Schaller Jr. (Owner of Schaller Auto World).

---
general infoRMATION:
Directions: The Kingswood Oxford campus is located in the heart of West Hartford, Connecticut at 170 Kingswood Road, conveniently located off of I-84, Exit 43. Please use the Trout Brook Drive (Roberts Theater) entrance directly across from the Delamar Hotel. For best GPS results use: 832 Trout Brook Drive, West Hartford, CT.
Parking: Park in the Roberts Theater parking lot (16 - see map below) on Trout Brook Drive. Make your way up to the green (10 - see map below) and the circle next to the green where the cars and vendors will be located.
---
SPONSORS:
Registered Attendees
There are currently 84 attendees registered.
Owners of These Vehicles Have Registered To Attend
| | |
| --- | --- |
| Vehicle | Registered |
| Tesla Model 3 | 8 |
| Chevrolet Bolt | 4 |
| Tesla Model S | 4 |
| BMW i3 | 3 |
| Other Plug-In Vehicle | 3 |
| Ford Focus Electric | 2 |
| Porsche Panamera S E-Hybrid | 2 |
| Tesla Model X | 2 |
| BMW 530e | 1 |
| Chevrolet Volt | 1 |
| Fiat 500e | 1 |
| Ford Fusion Energi | 1 |
| Honda Clarity Plug-in Hybrid | 1 |
| Mitsubishi Outlander PHEV | 1 |
| Nissan Leaf (2011-2017) | 1 |
| Nissan Leaf (2018+) | 1 |
| Toyota Plug-in Prius | 1 |
| Toyota Prius Prime | 1 |
| 18 Models | 38 |
Registered attendees report 430,544 electric miles driven.
In the News…