National Drive Electric Week
Cohoes, NY
Sep 21, 2014
Day:
Sunday, September 21, 2014

NOTE: this event has already happened

, find current-year events on the Attend page.
Time:
11:00 am to 5:00 pm
Location:
Guptill's Arena/Coney Express
1085 Route 9
Cohoes, NY 12047

Event Report
The head of Nissan North America's EV Marketing and Sales Strategy, John Arnesen flew in from Nashville TN to support our event. He provided many boxes of free LEAF labeled merchandise for attendees. We had six EV dealers displaying and providing test drives: LEAF, i3, B-Class, Smart ED, i-Miev, Fusion Energi, and three Zero Motorcycles. We started the event off with a 2 mile EV parade which lead all drivers to make a grand entrance at the show grounds simultaneously. This event was bigger and better than last year's event and showed excellent growth. WNYT News Channel 13 sent a camera crew to report at our event and aired a report on the 6:00 pm, 10:00 pm, and 11:00 pm news on Sunday night. On Monday morning it aired one more time at 5:30 am.



photo by: Michael Kamm


Cohoes, NY NDEW event 2014. Put on by the Albany Capital District EV Drivers Group.
Event Description
Take part in our National Drive Electric week event at Guptill's Arena on the Latham/Cohoes border.


The Albany Capital District EV Driver's Group will be welcoming electric vehicle drivers and enthusiasts as part of their second annual National Drive Electric Week event. If you are curious about EVs, this event is your chance to not only ask questions to existing EV owners and see their personal cars, but also to test drive several different EVs back to back for comparison.
Local EV dealers will be bringing demos for test drives. Members of the Albany Capital District EV Drivers Group will be happy to answer questions and help educate the public on EV ownership and it's advantages. Level 2 charging is available just down the road [.8 miles south] at the Century House Hotel. Level 1 charging is available all day at the event facility [bring your O.E. charger.]
Confirmed new EV's available for test drives:
Fuccillo Nissan - LEAF EV
Keeler Mercedes - B-Class Electric Drive
Mangino Mitsubishi - i-Miev EV
Smart Center of Latham - Smart ED
Orange Ford - Fusion Energi
Keeler BMW - i3
Zero Motorcycles - three electric bikes, the S, DS, and FX models.
The Guptill's Arena facility has a huge fully paved lot that hosts car shows of over 500 vehicles, so space is not a problem.
We will be holding a 2 mile EV parade starting at Cohoes Falls View Park.
EV drivers will meet us at

231-341 N Mohawk St, Cohoes, NY 12047 at 10

:30 am.
Then at 10
:45 am we will start the 2 mile parade on 9R [Manor Ave.] and make a grand entrance to our show at Guptill's, at 11:00 am.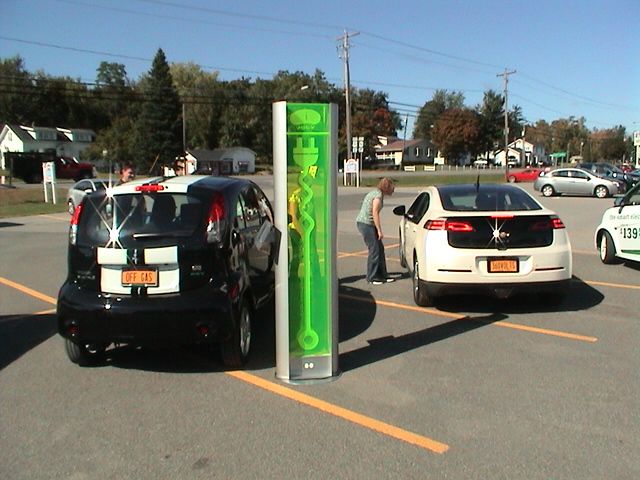 Fun for the whole family:

Free Admission
The famous Coney Express Ice cream stand will be open. Hot dogs are available, with more food items available in the Arena.
There will be EV car music playing all day, including "Electric Slide" dancing if you'd like!
EV car parade in the morning, followed by a group photo.
There will be Solar power vender displays to show the advantages of making your own clean energy and saving money.
Roller Skating: Guptill's roller rink is the largest in the US. It's open Noon to 4:30 PM. Those are the bathroom hours as well.
If you are an EV owner and want to participate in the event we can use your help!

Interested people are encouraged to join our Facebook group called the Albany Capital District EV Drivers.
If you know of any EV drivers in the Albany Capital Region, please let them know about our group.

Mike Kamm
Albany Capital District EV Drivers
Greater NY Electric Auto Association
Look for this banner on your way to the show.
Registered Attendees
There are currently 163 attendees registered.
Owners of These Vehicles Have Registered To Attend
| | |
| --- | --- |
| Vehicle | Registered |
| Nissan Leaf (2011-2017) | 11 |
| Chevrolet Volt | 9 |
| Honda Fit EV | 5 |
| Smart fortwo electric drive | 4 |
| BMW i3 | 2 |
| Other Plug-In Vehicle | 2 |
| Toyota Plug-in Prius | 2 |
| Zero Motorcycle | 2 |
| Chevy Spark EV | 1 |
| Ford C-MAX Energi | 1 |
| Ford Focus Electric | 1 |
| Mercedes-Benz B-Class Electric Drive | 1 |
| Mitsubishi i-MiEV | 1 |
| Other | 1 |
| Tesla Model S | 1 |
| Think City | 1 |
| Toyota RAV4 EV (2012 and later) | 1 |
| 17 Models | 46 |
Registered attendees report 348,627 electric miles driven.
In the News…