National Drive Electric Week
Scottsdale, AZ
Sep 15, 2018
Day:
Saturday, September 15, 2018

NOTE: this event has already happened

, find current-year events on the Attend page.
Location:
Scottsdale, AZ 86251

Event Report
This was the biggest NDEW event ever for the Phoenix EAA. Over 80 cars participated even with the heat. It got over 100 degrees by noon. Many left early. Participants came and went throughout the show. This years venue took part at the Scottsdale United Methodist Church. Because of the spacious lot, and no space restrictions, we where able to invite numerous vendors and ev/environment friendly organizations. These included: Plug In America, Sierra Club, Sun Valley Solar , East Valley Technical Institute and Pinnacle Nissan. We had over 30 Teslas and representations of almost every EV manufacturer including three Fisker Karmas and one conversion. Next year promises to be bigger and better, weather permitting.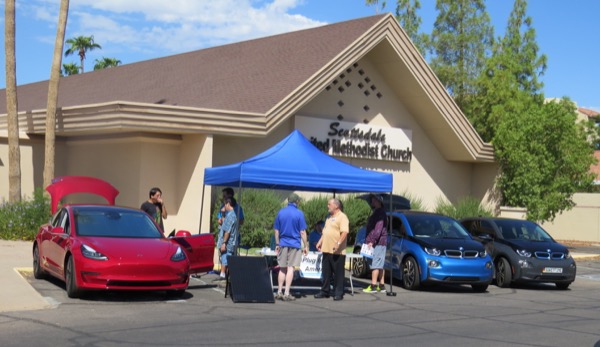 photo by: Sam DiMarco


Plug In America was well represented.
Event Description