National Drive Electric Week
Erie, PA
Sep 16, 2018
Day:
Sunday, September 16, 2018

NOTE: this event has already happened

, find current-year events on the Attend page.
Time:
Noon to 5:00 PM
Location:
Hilton Garden Inn - parking lot with 8 Tesla Charging Stations
2225 Downs Dr.
Erie, PA 16509

Event Report
The day was great, sunny, 82 degrees, and windy. Rain would have caused us to cancel. We only had the site for one day, so set-up started at 9am, and we were ready to open at noon. About 9 show cars had already arrived, as well as some visitors. The day went well for the first three hours, then the crowd thinned out. The Erie Mayor Joe Schemer and Erie County Executive Kathy Dahlkemper spoke to the audience briefly, then Barbara Potts gave them a demonstration ride in her Tesla Model X. The exhibit tables were largely ignored, it was the cars and owners that were the big hits. Two of our TV stations were there to film the cars and they interviewed the team captains. The 10 and 11 o'clock news reports carried the interviews, and the two 'dancing' Model X's to the music of the Trans Siberian Orchestra. Ice water and Lemonade were a big hit. Four touring Tesla's stopped for a quick charge, and joined right in answering questions from the crowd. All told we had 14 Plug-in's to show visitors. Our solar panels powered the sound system, which played music all during the show, except for announcements every 15 minutes to give away free-bies to the ticket winners.

We only had one $250 Contributing Sponsor, which covered our only real cost... $250 for liability insurance. Al the other costs we covered by volunteer donations out of their pockets and volunteer printing.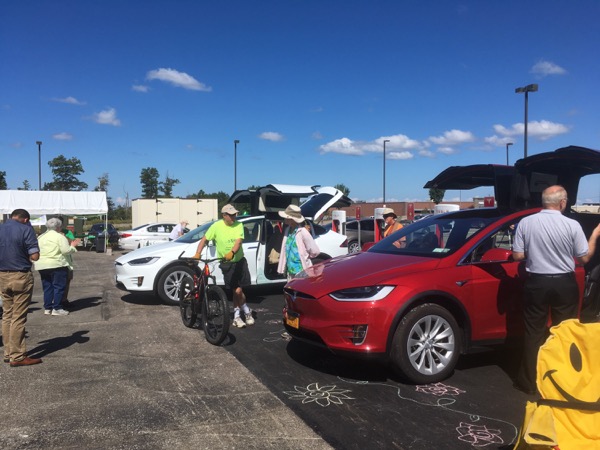 photo by: City Captain Sam Miller


This photo shows the two Tesla Model X's, one of the two electric bike owners who let them drive around the parking lot, a BMW 530xe, some of the crowd and the information tent.
Event Description
Several local Erie environmental organizations have teamed up to promote this NDEW clean energy electric car show featuring cars that rely only on battery power, or hybrid models that run a significant distance only on batteries, then revert to a small back-up traditional gas engine if needed. We expect to have over a dozen owners and dealers show their plug-in electric vehicles (EVs), and share their experiences with the public. Some owners may offer to give visitors short demonstration drives, and dealers can schedule later test drives at their dealerships. It's a chance to learn about the reality of EV ownership, kick the tires and compare the different models.

This is Erie's first ever event as part of National Drive Electric Week! Both Erie Mayor Joe Schember and County Executive Kathy Dahlkemper will attend and speak briefly about our area's plans to accommodate the expected growth of EVs. We will also have a few electric-car related talks and films during the afternoon to inform Erie about the wonderful world of electric vehicles. You won't want to miss this educational car show!

The event is free and family-friendly, and some healthy snack food and drinks will be provided. Various local environmental groups will have information tables and literature about alternatives to fossil fuels, and there is plenty of visitor parking.

We now have ten owners bringing their EVs, but we still have room for more people to bring their cars. If you would be willing to join us and display your plug-in EV to the public, please use the REGISTER button above, of just drive in the day of the show.
Don't miss this exciting look into the future of fossil fuel free transportation.
Please visit our local Facebook page for more details and photos at: facebook.com/NDEWErie/
Registered Attendees
There are currently 31 attendees registered.
Owners of These Vehicles Have Registered To Attend
| | |
| --- | --- |
| Vehicle | Registered |
| Chevrolet Volt | 3 |
| Nissan Leaf (2018+) | 2 |
| Tesla Model S | 2 |
| BMW 530e | 1 |
| Chevrolet Bolt | 1 |
| Tesla Model X | 1 |
| 6 Models | 10 |
Registered attendees report 282,448 electric miles driven.