National Drive Electric Week
Poughkeepsie, NY
Sep 16, 2018
Day:
Sunday, September 16, 2018

NOTE: this event has already happened

, find current-year events on the Attend page.
Time:
12pm - 3pm
Location:
Marist College
Edvard Bech Drive
Poughkeepsie, NY 12601

Event Report
A beautiful day at Marist College as local owners brought 25 electric vehicles to display at Poughkeepsie's Drive Electric event. The cars were arranged in a showcase, where the main thoroughfare had one of each model of EV so that perspective buyers could see all the options. The event kicked off at noon with owners talking with perspective buyers about their cars. At 1pm we started our series of talks, beginning with an Introduction to electric vehicles. At 1:30pm Tevin Grant of the electric school bus campaign spoke for half an hour about their efforts to convert New York City's school transportation to all electric. This was followed by a guide to the various federal and state rebates at 2pm, which went into depth about how the phase-out is working and what the difference between a credit, rebate and deduction was. Finally, at 2:30 there was a panel discussion about the environmental impacts of EVs, featuring a Marist professor of ecology and a local owner who is very involved in the environmental movement. Everyone had a great time, and we got many positive comments from folks who don't have an EV yet but were interested in driving electric.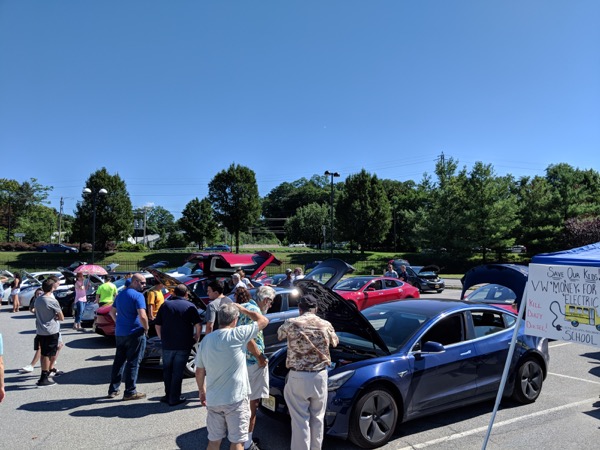 photo by: Michael Sperling


Battery Electric Vehicles at the Poughkeepsie Drive Electric event
Event Description
5th Annual Drive Electric Poughkeepsie
Sunday September 16th, Noon - 3pm
Marist College, Poughkeepsie NY

Our 2018 Drive Electric Week event will be held at MARIST COLLEGE in Poughkeepsie, in the Donnelly Hall parking lot.
Enter Marist via the South entrance, closest to the Mid-Hudson Bridge and bear right into the parking lot. Look for the arrows!
Come learn about how exciting and convenient it is to drive electric at this free event. Sign up today! More details after the image below:
Schedule of Events for Sunday September 16th:
Noon: Start of EV Showcase. See every Electric Car on the market in one place! Continues thru 3pm
1:00pm: Intro to EVs Presentation. Learn about charging, driving and cost of ownership from a current EV driver
1:30pm: Special Topic: Electric School Buses with Tevin Grant of the NY Electric School Bus Campaign

2:00pm: Federal & State EV Rebate Information & Status
2:30pm: Panel Discussion: What lies ahead for Batteries & Electric Vehicles?
Come find out why this is the perfect time to stop paying attention to rising gas prices and drive on 100% American energy.
You'll also find more details about:
How to receive tax credits that can push the price of a brand new EV under $20,000
What it's like to charge at home and on the road
Real information from local hudson valley drivers.. no dealers will be at the event
Please also join our
Hudson Valley EV Facebook Group
.
*NEW* If you register your car before the event on this website you'll receive a free Hudson Valley EV Drivers window cling with the image below:

------------------------------------------------------------------------------------------------------------------------------------------------------

View of last year's event in the Mcann Lot. This year will be in front of Donnelly Hall.
Photo Credit: Alena Y.

Registered Attendees
There are currently 75 attendees registered.
Owners of These Vehicles Have Registered To Attend
| | |
| --- | --- |
| Vehicle | Registered |
| Chevrolet Bolt | 7 |
| Chevrolet Volt | 6 |
| Tesla Model 3 | 5 |
| Tesla Model S | 3 |
| Nissan Leaf (2011-2017) | 2 |
| BMW i3 REx | 1 |
| Honda Clarity Plug-in Hybrid | 1 |
| Honda Fit EV | 1 |
| Kia Soul EV | 1 |
| Mercedes-Benz B-Class Electric Drive | 1 |
| Mitsubishi Outlander PHEV | 1 |
| Nissan Leaf (2018+) | 1 |
| Other Plug-In Vehicle | 1 |
| Tesla Model X | 1 |
| Toyota Plug-in Prius | 1 |
| 15 Models | 33 |
Registered attendees report 617,612 electric miles driven.