National Drive Electric Week
Lihue, HI
Sep 16, 2017
Day:
Saturday, September 16, 2017

NOTE: this event has already happened

, find current-year events on the Attend page.
Location:
Lihue, HI 96766

Event Report
At least one county council woman, the chairman of the local electricity company and the sustainability coordinator of the county attended. We were asked to send someone to a council meeting to tell them about EVs and clean transportation. Drive Electric Hawaii flew out one representative who even helped out at the event for a while. We had one electric bike and the builder / rider gave demonstrations.

The cars that attended were mostly Leafs, 3 Kia Souls, one each Ford C-Max, Tesla Model X, Mercedes B-class electric, Chevy Volt, plug-in Prius, and a few other hybrids, I assume all of them plug ins.

3 departments of the college were there with docents, professors and department leaders, among them the automotive department and KCC's sustainability club.

Our volunteers were awesome, many more helped out than had signed up, and I consider the event a huge success. I expect 3 or 4 or the people I personally talked to to buy an EV in the next 1/2 year.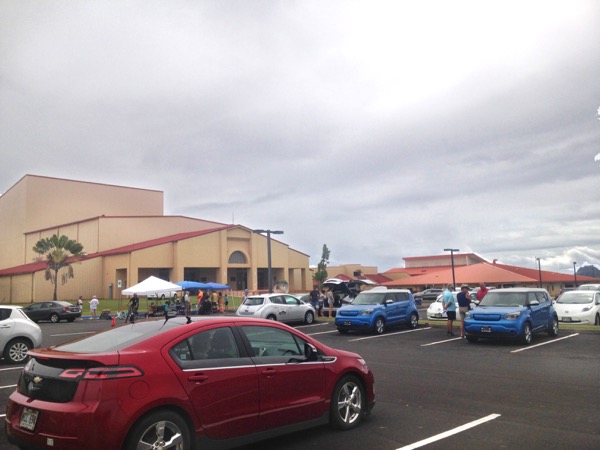 photo by: KauaiEV


Sadly none of our many volunteers had brought a camera, and only when there was a lull in visitors I took a few photos with my phone. Red Volt, 2 blue Souls, 4 Leafs, Model X in the background, Plug-in Prius almost unrecognizable next to the Model X.
Event Description
In the News…