National Drive Electric Week
Lihue, HI
Sep 16, 2017
Day:
Saturday, September 16, 2017

NOTE: this event has already happened

, find current-year events on the Attend page.
Time:
9am - 1pm
Location:
KCC Kauai Community College
3-1901 Kaumualii Hwy
Lihue, HI 96766

Event Report
At least one county council woman, the chairman of the local electricity company and the sustainability coordinator of the county attended. We were asked to send someone to a council meeting to tell them about EVs and clean transportation. Drive Electric Hawaii flew out one representative who even helped out at the event for a while. We had one electric bike and the builder / rider gave demonstrations.

The cars that attended were mostly Leafs, 3 Kia Souls, one each Ford C-Max, Tesla Model X, Mercedes B-class electric, Chevy Volt, plug-in Prius, and a few other hybrids, I assume all of them plug ins.

3 departments of the college were there with docents, professors and department leaders, among them the automotive department and KCC's sustainability club.

Our volunteers were awesome, many more helped out than had signed up, and I consider the event a huge success. I expect 3 or 4 or the people I personally talked to to buy an EV in the next 1/2 year.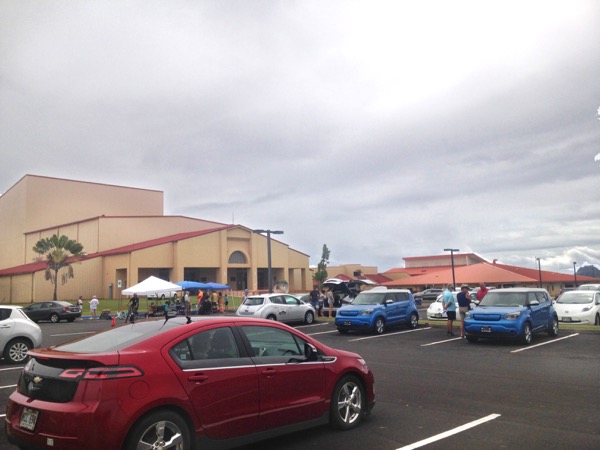 photo by: KauaiEV


Sadly none of our many volunteers had brought a camera, and only when there was a lull in visitors I took a few photos with my phone. Red Volt, 2 blue Souls, 4 Leafs, Model X in the background, Plug-in Prius almost unrecognizable next to the Model X.
Event Description
Electric Vehicle Ride and Drive Event at KCC Sept. 16
KauaiEV, KCC and the National Drive Electric Week are holding an EV Ride-and-Drive EVent on Saturday September 16th at the Kauai Community College Farmer's Market. It's a no-pressure, no-hassle opportunity at no charge.
We are offering free electric test drives or rides in several different electric vehicles, or you can just chat with EV owners.

Please register to attend our event or to volunteer by clicking the blue button at the top of this page and you'll be entered to win a chance at a $250 gift card.

Do you have questions about electric vehicles? Tax credits? Rebates? Charging Infrastructure? Local and state policy? Electricity cost versus gas? EVs in the visitor industry? Purchase incentives? Do you already own an EV and would like to connect to others who drive one? Do you have suggestions or solutions?

We will be happy to discuss topics like which EV to buy, and what are the true environmental benefits, batteries and their recycling and to hear people's suggestions and proposed solutions. We also hope to forge connections among EV drivers.

My vision is that in a decade or two, we on Kauai will stop importing oil and gas altogether and generate all the power needed for each and every vehicle on the road with solar energy and other renewables.

We thank the National Drive Electric Week national organizers, Plug In America, the Sierra Club, and the Electric Auto Association and the Nissan LEAF® for all their help and sponsorship. [Continue reading below.]
Electric vehicles are not just great for clean air and the environment in general, they are also fun to drive. They are smooth and quiet, and their high torque – even at low speeds – provides instant accelerator response. EVs are cheaper to maintain than gasoline vehicles. EVs require no oil changes and have 10 times fewer moving parts than a gasoline-powered car. There's no engine, transmission, spark plugs, valves, fuel tank, tailpipe, distributor, starter, clutch, muffler, or catalytic converter. It is much more convenient to simply plug in when you arrive home than to stop by a gas station to fill your gas tank, and many EV owners also have Solar PV for added environmental benefit, or charge during noon hours when KIUC's energy mix is much cleaner (solar).
Switching to electric vehicles is one of the biggest steps we can take to reduce our dependence on oil and cut dangerous air pollution. Each year in the US we burn roughly 121 billion gallons of oil in our passenger cars and trucks. Even in places that burn exclusively coal for their electricity, EVs are cleaner than gas cars because they are so much more efficient.
NOTE: Drivers need to have a valid driver's license and be at least 18 years of age and complete a Waiver of Liability.

Registered Attendees
There are currently 13 attendees registered.
Owners of These Vehicles Have Registered To Attend
| | |
| --- | --- |
| Vehicle | Registered |
| Nissan Leaf (2011-2017) | 3 |
| Chevrolet Volt | 1 |
| Mercedes-Benz B-Class Electric Drive | 1 |
| 3 Models | 5 |
Registered attendees report 119,460 electric miles driven.
In the News…