National Drive Electric Week
Spokane, WA
Sep 14, 2017
Day:
Thursday, September 14, 2017

NOTE: this event has already happened

, find current-year events on the Attend page.
Time:
10:30 AM to 4 PM
Location:
Kendall Yards
Corner of Cedar Street and Bridge Lane
Spokane, WA 99201

Event Report
We did our best with some very bad luck. We were unveiling a new fast charger system and had a press conference planned. The day before our event, one student was killed and three more were injured in a shooting at a local high school.

We cancelled the press conference. All the local media were tied up with the shooting.

Our air quality had been bad for weeks due to nearby forest fires. Our Air Quality Index that day was over 150, which is considered unhealthy for everyone. We shouldn't have been outside. I could taste it in the back of my throat by the end of the day.

Neither of our two area Nissan dealerships had a single Leaf in stock. They are getting the 2018 in December and don't want dead 2017s hanging around the lot anymore. Ford also had no vehicles to bring. BMW, a supporter in past years, did not have a product advisor available.

Despite having no media or dealership support and minimal public, we did our best. I was pleased with the spread of cars, which included Fiat, Think and Ford along with the Chevys, Teslas and Nissans I expected. We also had a local electric bike company bring their machines. We all learned from that.

The odds were stacked against us, but we influenced at least a few minds.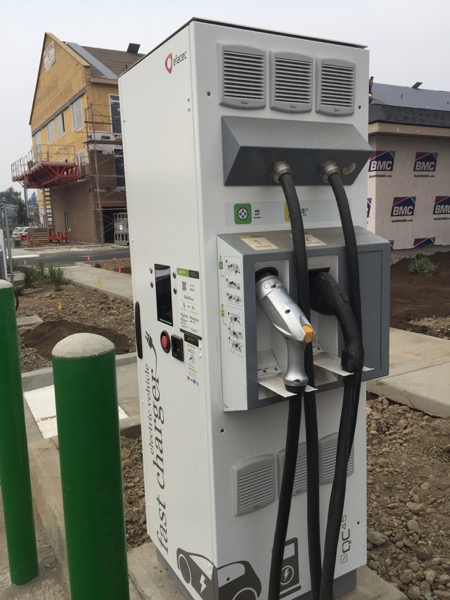 photo by: David Klenda


Our New Fast Charger at Kendall Yards
Event Description
Join Nissan, BMW, Chevy and Ford dealerships as they showcase their electric vehicles at Kendall Yards. Talk with private owners and learn from their real experiences living with electric cars. This is your chance to take a no-obligation drive in an electric vehicle to learn about the efficiencies, benefits and experience of driving electric.
Kendall Yards is a new neighborhood just across the river from Downtown Spokane. It is dedicated to being a sustainable, environmentally friendly community. The area has always been a transportation hub. It was once the axis of Spokane's railroad traffic. Now it's looking forward to a clean, emissions-free transportation future.
Think an EV won't fit into your lifestyle? Think charging for your home or business is costly or complicated? Think driving electric is boring?
Join us and we'll pop some holes in those myths.

Registered Attendees
There are currently 22 attendees registered.
Owners of These Vehicles Have Registered To Attend
| | |
| --- | --- |
| Vehicle | Registered |
| Nissan Leaf (2011-2017) | 3 |
| Chevrolet Volt | 2 |
| Tesla Model S | 2 |
| BMW i3 REx | 1 |
| Chevrolet Bolt | 1 |
| Chevy Spark EV | 1 |
| EV Conversion | 1 |
| Tesla Roadster | 1 |
| 8 Models | 12 |
Registered attendees report 307,764 electric miles driven.