National Drive Electric Week
Morristown, NJ
Sep 16, 2017
Day:
Saturday, September 16, 2017

NOTE: this event has already happened

, find current-year events on the Attend page.
Time:
10am-2pm
Location:
Presbyterian Church in Morristown Parking Lot
65 South Street
Morristown, NJ 07960

Event Report
This year no dealer test drives but a Model S driver took people out

The highlight was the return of the 1917 Detroit Electric Model 68. The owners rive it on local roads for 15 miles to get to our event. This year we had a birthday cake to celebrate the EV turning 100. I said a few words and pointed out to the drivers and public joining us that in just a few years we now have over 10 manufacturers represented in our one parking lot where before we maybe had 4.

Another highlight were the 4 Tesla Model Xs that did the Christmas Easter Egg all at once.

The event this year was probably the most fun, lots of laughs, meeting up with old friends and a ton of walk ins with great questions and interests. The event is located on the main walk way in the town so we get lots of foot traffic. We went 45 mins overtime because we were so busy, this year the majority of drivers stayed the entire event.

Finally we had a news crew that joined us after learning about the event, they were there for about 2 hrs interviewing people and documenting the goings on.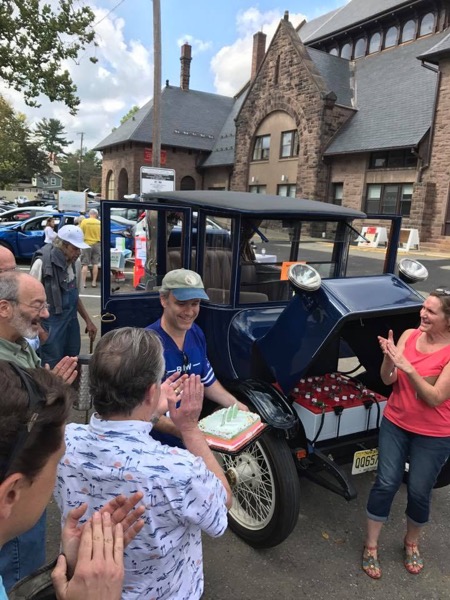 photo by: Chris Neff


I have attached a link to all of the pictures and here is a video link to the Tesla Model Xs doing the Christmas Easter Egg https://youtu.be/Ab-FgkwzCx8 The uploaded pic is of me (Chris Neff - City Captain and organizer) presenting a birthday cake to the owners of the 1917 Detroit Electric Model 68 as it turned 100 years old. Lauren Cranmer took that photo
Event Description
An opportunity to learn all about Electric Cars in one place. Learn how much fun they are to drive, how little they cost to run and why we all have a big smile on our faces when we drive them. Talk to owners about their experiences and learn what is is like ot have an EV as a daily driver.

Bring you family. Morristown is full of shops and trendy restaurants. It is very family friendly with cafes that outside seating.


UPDATE: 9.10.17 We will have the 1917 Detroit Electric Model 68 with us again - this is a full restored street legal 100 year old EV that drives to our event. How cool is that?
Fully restored 1917 Detroit Electric - not to be missed

Public chargers in Morristown
If you need a boost before or after attending you will be pleased to know Morristown has 3 Juice Bar public Level 2 chargers installed last year. Our events over the past years helped to push these installations along so THANK YOU!! The chargers are located in 3 separate parking garages near the event and can be found on Plugshare.com. It is paid parking but the charge is free.
Special thanks to:
Sustainable Morristown for sponsoring us

The Presbyterian Church of Morristown for the use of their lot

New Jersey Audubon

Mayo Performing Arts Center

Morristown and Morris Township Library

Event map
Registered Attendees
There are currently 110 attendees registered.
Owners of These Vehicles Have Registered To Attend
| | |
| --- | --- |
| Vehicle | Registered |
| Chevrolet Volt | 5 |
| Tesla Model X | 5 |
| BMW i3 REx | 3 |
| Chevrolet Bolt | 3 |
| Nissan Leaf (2011-2017) | 3 |
| Volkswagen e-Golf | 3 |
| Zero Motorcycle | 3 |
| Smart fortwo electric drive | 2 |
| BMW i8 | 1 |
| Cadillac ELR | 1 |
| Detroit Electric Model 68 (1917) | 1 |
| Fiat 500e | 1 |
| Mercedes-Benz B-Class Electric Drive | 1 |
| Mitsubishi i-MiEV | 1 |
| Tesla Model S | 1 |
| Tesla Roadster | 1 |
| Toyota Prius Prime | 1 |
| Toyota RAV4 EV (2012 and later) | 1 |
| 18 Models | 37 |
Registered attendees report 600,400 electric miles driven.