National Drive Electric Week
Woodland Hills, CA
Sep 16, 2017
Day:
Saturday, September 16, 2017

NOTE: this event has already happened

, find current-year events on the Attend page.
Time:
10:00 AM - 2:00 PM
Location:
El Camino Real High School
5440 Valley Cir Blvd
Woodland Hills, CA 91367

Event Report
LA City Controller Ron Galperin spoke, with Chevy, Fiat, Porsche, and BMW dealerships participating in test drives. Owners with 10 different types of cars also attended and gave test rides and drives.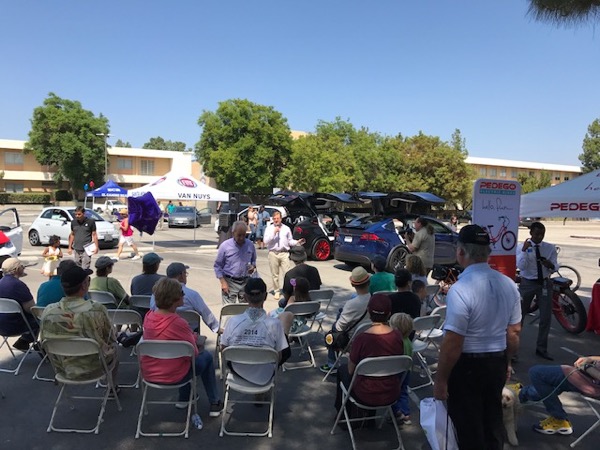 photo by: Ian Taras


LA City Controller Ron Galperin speaking about LA City's environmental goals.
Event Description
All attendees and volunteers are required to wear face masks whenever they are within six feet of another person at all National Drive Electric Week 2022 events. Please see this information about how to improve how your mask protects you. For more information, see our in-person event safety requirements.
For the fifth year in a row, we invite you to Woodland Hills National Drive Electric Week! Our event features test drives from dealerships and owners, guest speakers, a DJ, food truck, and activities for children. There will also be a raffle with prizes including Yoga lessons and restaurant gift cards. Stop by if you have an electric car, want one, or want to eat, have fun, and learn more.

SPEAKERS (At Noon)
State Senator Henry Stern

Los Angeles City Controller Ron Galperin

Actor/Environmental Activist Ed Begley Jr.
California State Assemblymember Matt Dababneh
SPONSORS
The Auto Gallery
Bob Smith BMW
PacificSky Solar
Pedego 101
VENDORS
Audubon Society
Greywater Corps
The Sierra Club
RAFFLE PRIZES

Follow Your Heart
Maggianos
Sprouts
Trader Joe's
Yogaworks

About National Drive Electric Week
Presented by Plug In America, Sierra Club and the Electric Auto Association, National Drive Electric Week, September 9-17, 2017, is a nationwide celebration to heighten awareness of today's widespread availability of plug-in vehicles and highlight the benefits of all-electric and plug-in hybrid-electric cars, trucks, motorcycles, and more. They are fun to drive, are less expensive and more convenient to fuel than gasoline vehicles, are better for the environment, promote local jobs, and reduce our dependence on foreign oil. Are you considering going electric? Come talk to owners who have successfully done so.

Registered Attendees
There are currently 132 attendees registered.
Owners of These Vehicles Have Registered To Attend
| | |
| --- | --- |
| Vehicle | Registered |
| Chevrolet Volt | 7 |
| Chevrolet Bolt | 3 |
| Nissan Leaf (2011-2017) | 3 |
| Tesla Model S | 3 |
| BMW i3 REx | 2 |
| Chevy Spark EV | 2 |
| Ford C-MAX Energi | 2 |
| Other Plug-In Vehicle | 2 |
| Tesla Model X | 2 |
| BMW X5 iPerformance | 1 |
| EV Conversion | 1 |
| Fiat 500e | 1 |
| Honda Accord Plug-In | 1 |
| Kia Soul EV | 1 |
| Tesla Roadster | 1 |
| Toyota RAV4 EV (2012 and later) | 1 |
| 16 Models | 33 |
Registered attendees report 638,651 electric miles driven.