National Drive Electric Week


Drive Electric Poolesville Day Event


Poolesville, MD




Sep 23, 2023
Day:
Saturday, September 23, 2023

NOTE: this event has already happened

, find current-year events on the Attend page.
Time:
10:00 am - 4:00 pm EDT
Location:
Town of Poolesville
19950 Fisher Ave
Poolesville, MD 20837

Event Report
We were set for our best National Drive Electric Week event ever, but our event was drastically shorten by Tropical Storm Ophelia, with a lot of wind and rain. It ran from 10am to 12 noon before we had to shut it down. Even still we had more than 100 of our 200 Electric Vehicle owners show up including the Wheaton High School Society of Women Engineers with their internationally winning electric go carts, a Polaris off-road vehicle and our first ever Electric Boat all the way from Virginia! The festival opening parade went off as planned and included more EVs across multiple entries than ever before. Wells Fargo, Nissan of Bowie and Military Warriors Support Foundation Electric gave away a Nissan Leaf to a hero Veteran. LUCID was able to get in 7 Test Drives in the 30 minutes they had for Test Drives. Nissan and Ford had amazing displays and Montgomery Country brought several of their electric fleet vehicles (Box truck, E-Transit Van, Ford Mach-E) and supplied an electric commuter bus to shuttle people to and from outer parking lots. In all, the vast majority of vehicle types registered did attend and display. Attendees came from as far as Ontario, Canada, Tennessee and Massachusetts!
Our planned tent talks on EV Road-tripping, Batteries and EV shopping had to be shelved but we did conduct a couple of free drawings to top off the abbreviated event. Our rechargeable electronics recycling effort in collaboration with Redwood Materials was cut short and we look forward to continuing it moving forward. We are very appreciative of our many sponsors, EV owners, volunteers, family members, the EVcurious and others whom without their participation the Poolesville NDEW event could not be the same.


We all were very wet but had a good time. Numerous sponsors cancelled, and some speakers did not make it. These were the ones planned:

Jim Brown – Head of the Town of Poolesville Commissioners (attended)

Marilyn Balcombe

- Montgomery County Council

(attended)



David Fraser-Hidalgo - Maryland House of Delegates
Lily Qi - Maryland House of Delegates
Linda K. Foley - Maryland House of Delegates
Brian J. Feldman - Maryland State Senator
Evan Glass - Montgomery County Council President
EV Groups participating:
Poolesville.Green (host)
Tesla Owners of Maryland (TOCMD)
MD Volt
Electric Vehicle Association of DC (EVADC)
One Montgomery Green (OMG)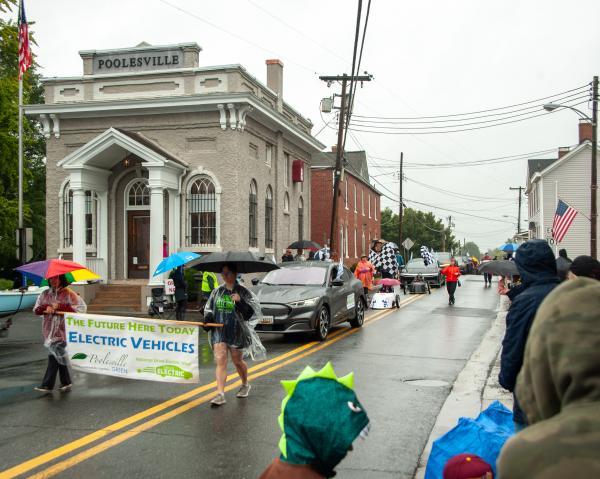 photo by: Poolesville Green Photographer Peter Falabella


The Parade at the rain-soaked National Drive Electric Poolesville Day event. Featuring a Ford Mach-E, the young ladies from Society of Women Engineers Sponsor - Wheaton High School in their Electric Vehicle Grand Prix carts, a LUCID, Rivian, Polestar 2 and more.
Event Description
Poolesville Green's 2022 National Drive Electric Week (NDEW) Poolesville Day Electric Vehicle Show was a huge success again! With 200+ vehicles registered, we were the largest NDEW event worldwide (based on registered vehicles). We expect even more visitors, more highlights, more big sponsors, manufacturers, and dealerships, more rides and drives, more giveaways, and more FUN this coming year! Let's make 2023 the biggest and best year ever. Come help us make it happen!

For most of the answers to the Who, What, Where, When, and How (with maps) please check: http://poolesville.green/what-to-do/
REGISTER NOW !!!
Why Come?
To learn more about your EV and other EVs from real EV owners, from dealerships, and from manufacturers

To share what you know with other EVers and with the general public (help them "Join the rEVolution")
And most of all, to have Fun! Oh, and get free stuff.
Who Should Register?
Anyone interested in getting event updates and changes.
Plug-In Electric and Plug-In Hybrid Electric Car Owners who love to show off their vehicles and to share with others: The more the merrier. (Free event shirt, "Swag Bag" and other goodies for Registered Vehicle Owners/Dealerships, first come, first served, while supplies last). Plus registered drivers only free drawings.
Sponsors: We need sponsors to help make this the best NDEW event ever.
Media: Please help us get the word out! Exclusive access! Pre-event demonstrations.
Volunteers: We need the help (you get a T-shirt for that) :)
ALL (Note: Only Sponsors, Volunteers, and EV / PHEV Car owners will get a FREE T-Shirt, but all can reserve one (for $18 donation)).
Registering Multiple Vehicles: Bringing more than 1 Electric/Plug-In Hybrid Vehicle? Please register each (Note: Each registration will have to have its own email address, otherwise it will overwrite your 1st registration). Use a 2nd email address on a new registration or tell us home many vehicles you are bringing in the comment section, this helps in our event planning.

Why Register Now?
You will be notified of any changes, additions, headliners, and of any related EV events,
Registration helps us plan the event and to arrange for the correct number of T-Shirts and giveaways (Free to Registered Vehicle Owners/Dealerships). Note, we usually have a limited supply of t-shirts. Please sign up early and we will do our best to have enough.
So please help us help you, EV owner or not, please register here and now.
Not sure if you can make it? Register now anyway! That way you will know if there are any changes. We can remove your name later if you find you cannot attend (just send me a note).
Showing early interest helps media and sponsors to gauge and encourage their participation.
Click the blue REGISTER button at the top of this page and you'll be entered for a chance to win a $250 Visa gift card
Eary Giveaway:
Register your Electric Vehicle by Sept 10th and be in an early drawing for ...
Free Prizes (free drawings):

How: Register your Electric Vehicle or Take a Test Ride or Drive in an Electric Vehicle, and you will be given a ticket for a chance to win one of these wonderful prizes...more to come!
Breaking News! EGO has donated an EGO POWER+ 56V POWERLOAD String Trimmer Kit — 16in. Cutting Swath, 4.0 Ah Battery, Charger, Model# ST1623T
And an EGO Power+ CS1804 18-Inch 56-Volt Cordless Chain Saw 5.0Ah Battery and Charger Included & BA2800T 56-Volt 5.0 Ah Battery
Which we will be giving away in our drawings!
Public (open to all with a ticket, see the check-in desk) Drawings at 1 pm and 3 pm. (some items at 1 pm and some at 3 pm)
* More
Information coming ...
Driver Drawing at 3:30 pm (this is for EV/PHEV Registered Drivers
* More Information coming ...
* for the main prized items, you do not need to be present to win. Most items will be given at the live drawing.



Sponsors:

We are a non-profit and really need your help (note: donations are not required to participate). We are looking for sponsors (as little as $20 dollars on up). A fairly standard donation with most of the benefits starts at $250. Early donations of $250 or more will get your logo added to our event T-Shirts. The sooner you sponsor, the more your logos will show up on our websites, flyers, and other event media. Donations can be made through our website: http://poolesville.green/support-us/ (Click on "Donate Now"). Donations can also be made in terms of a valued gift to be used in drawings for our drivers and our visitors at the event. Contact me directly (click the blue contact button at the top of this page) to make arrangements for pickup or delivery of those types of donations. Register here to get the latest updates through our EV event email list and/or contact me directly (click the blue contact button at the top of this page).
Media:

Contact me directly (click the blue contact button at the top of this page) for info or to make special arrangements. Register here to get the latest updates. We can plan a "media day" prior to the event day, make arrangements. Check out events from prior years at Poolesville Green.
Any questions, contact us through this site (after registering) or through http://Poolesville.Green
or direct email: use the Contact button near the top, under the Registration and Volunteer buttons.

A special Thank You to our 2023 Event Sponsors:
Gold Level Sponsors
Silver Level Sponsors


Become a Sponsor or Donor for our 2023 event at http://Poolesville.Green/support-us/ (and/or click on "Contact" the organizers of this event near the top of this page).
____________________________________________________

Registered Attendees
There are currently 679 attendees registered.
Owners of These Vehicles Have Registered To Attend
| | |
| --- | --- |
| Vehicle | Registered |
| Tesla Model 3 | 45 |
| Tesla Model Y | 41 |
| Tesla Model S | 17 |
| Rivian R1T | 10 |
| Chevrolet Bolt | 9 |
| Tesla Model X | 9 |
| Volkswagen ID.4 | 5 |
| Ford F-150 Lightning | 4 |
| Rivian R1S | 4 |
| Toyota Prius Prime | 4 |
| Audi e-tron | 3 |
| Chevrolet Volt | 3 |
| Hyundai Ioniq 6 | 3 |
| Tesla Roadster | 3 |
| Zero Motorcycle | 3 |
| Honda Clarity Plug-in Hybrid | 2 |
| Hyundai Ioniq 5 | 2 |
| Hyundai KONA Electric | 2 |
| Kia EV6 | 2 |
| Kia Niro Electric | 2 |
| Polestar 2 | 2 |
| Porsche Taycan | 2 |
| Audi Q4 e-tron quattro | 1 |
| BMW i4 | 1 |
| Cadillac LYRIQ | 1 |
| Chevrolet Bolt EUV | 1 |
| Ford Mustang Mach-E | 1 |
| Harley Davidson LiveWire | 1 |
| Jaguar I-Pace | 1 |
| Jeep Wrangler 4xe | 1 |
| Lucid Air | 1 |
| MINI Cooper SE Hardtop 2 Door | 1 |
| Mercedes-Benz AMG EQS | 1 |
| Mercedes-Benz EQE 350+ Sedan | 1 |
| Nissan Ariya | 1 |
| Nissan Leaf (2018+) | 1 |
| Other Plug-In Vehicle | 1 |
| Solectria Sunrise | 1 |
| Toyota RAV4 EV (2012 and later) | 1 |
| Toyota RAV4 Prime 4WD/AWD | 1 |
| Toyota bZ4X | 1 |
| Volkswagen e-Golf | 1 |
| 42 Models | 197 |
| Vehicle | Registered |
Registered attendees report 6,585,513 electric miles driven.