National Drive Electric Week
San Diego, CA
Sep 19, 2015
Day:
Saturday, September 19, 2015

NOTE: this event has already happened

, find current-year events on the Attend page.
Time:
10:00 a.m - 3:00 p.m
Location:
Liberty Station
2401 Truxtun Road
San Diego, CA 92106

Event Report
NDEW San Diego was an incredibly successful event. From the event sponsors (SDG&E, Center for Sustainable Energy and Cleantech San Diego), to the event hosts (Plug In America, Sierra Club and Electric Vehicle Association), to the stars of the show (the dealerships, exhibitors and San Diego Fire Rescue Foundation), to the supporters that participated in the EV Day Kick-Off Ceremony: San Diego City Councilmember Mark Kersey, San Diego Fire Chief Maynard, SDG&E VP Mitch Mitchell, Center for Sustainable Energy's Colin Santulli, Cleantech San Diego President Jason Anderson, Plug In America Executive Director Joel Levin, and CA PEV Collaborative Executive Director Christine Kehoe. We also had San Diego County Supervisor Dave Roberts join us toward the end of the event.
Close to 900 people attended the San Diego event and over 600 of them took test drives in various EVs. We had 23 available test drive vehicles, and more than 100 San Diego residents showcased their personal EVs.



photo by: Lauren Radack


Electric Vehicle Day - San Diego local sponsors: Center for Sustainable Energy, SDG&E and Cleantech San Diego.
Event Description
All attendees and volunteers are required to wear face masks whenever they are within six feet of another person at all National Drive Electric Week 2022 events. Please see this information about how to improve how your mask protects you. For more information, see our in-person event safety requirements.

Electric Vehicle Day - San Diego
A National Drive Electric Week Event


Saturday, September 19, 2015
10:00 a.m - 3:00 p.m

Liberty Station
2401 Truxtun Road
San Diego, CA, 92106


Free and open to the public!

Experience the excitement of driving electric at this one-day opportunity to see why so many San Diego residents are making the switch to electric vehicles (EVs). With a range of EVs on the road, there is an electric car for every lifestyle.

Bring the family! Kids will love driving mini-electric cars, presented by the San Diego Fire Rescue Foundation.

Already own an EV? Come put your car on display and talk to attendees about why you love driving electric.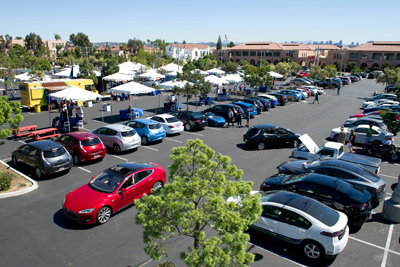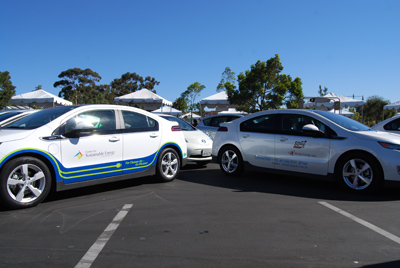 Test drive various EVs (models subject to change)
BMW i3
Cadillac ELR
Chevy Spark EV
Chevy Volt
Fiat 500e
Ford C-Max Energi
Ford Focus Electric
Ford Fusion Energi
Kia Soul EV
Mercedes-Benz B-Class Electric Drive
Mitsubishi i-MiEV
Nissan LEAF
MY15 smart fortwo electric drive
Toyota Prius Plug-in
Volkswagen e-Golf
Displays and demonstrations
See how easy it is to charge an EV at home or at public stations
Learn about SDG&E's special EV rates for charging at home
Get info on state and federal EV incentives
Talk to EV owners who have made the switch
Find out why San Diego is adopting EVs at such a high rate
Learn about solar power and home energy efficiency
Get more details by reading
Frequently Asked Questions
Check out the video from last year



Sponsors:


National Organizers:
Registered Attendees
There are currently 796 attendees registered.
Owners of These Vehicles Have Registered To Attend
| | |
| --- | --- |
| Vehicle | Registered |
| Nissan Leaf (2011-2017) | 31 |
| Tesla Model S | 14 |
| Chevrolet Volt | 13 |
| Fiat 500e | 9 |
| Chevy Spark EV | 6 |
| Ford C-MAX Energi | 5 |
| BMW i3 REx | 4 |
| BMW i3 | 3 |
| Honda Fit EV | 3 |
| Mercedes-Benz B-Class Electric Drive | 3 |
| Other Plug-In Vehicle | 3 |
| Ford Fusion Energi | 2 |
| Kia Soul EV | 2 |
| Smart fortwo electric drive | 2 |
| Tesla Roadster | 2 |
| Toyota RAV4 EV (2012 and later) | 2 |
| Volkswagen e-Golf | 2 |
| Zero Motorcycle | 2 |
| BMW i8 | 1 |
| EV Conversion | 1 |
| Ford Focus Electric | 1 |
| Ford Ranger EV (1997-2003) | 1 |
| Honda Accord Plug-In | 1 |
| Toyota Plug-in Prius | 1 |
| Vectrix Electric Scooter | 1 |
| 25 Models | 115 |
Registered attendees report 1,712,921 electric miles driven.
In the News…