National Drive Electric Week


Electric Mobility


American Canyon, CA




Sep 25, 2022
Day:
Sunday, September 25, 2022

NOTE: this event has already happened

, find current-year events on the Attend page.
Time:
1:00 - 4:00 pm PDT
Location:
Walmart Supercenter
7011 Main Street
American Canyon, CA 94503

Event Report
Our Electric Mobility event was held as part of National Drive Electric Week in the parking lot of the Walmart Supercenter in American Canyon.
The event was sponsored by Récolte Energy, Napa Climate Now!, and MCE.
The cars represented included the following: Avanti Conversion, BYD bus (from Napa Valley Transportation Authority), Chevy Bolt, E-bike, Fiat 500e, Ford Mustang Mach-E (from Napa Ford Lincoln), Ford F-150 Lightning, Ford Electric Van (from the city of American Canyon) , Hyundai Ioniq Plug In Hybrid, and Tesla Models S, 3, X, and Y.

The elected officials who attended the event included Napa County Supervisor Belia Ramos, and American Canyon City Council Members Mark Joseph and Pierre Washington.
Redwood Credit Union had a table to promote their low interest loans for EVs.
Thank you to all the EV owners (regular and new), agencies, volunteers, and sponsors, who shared their enthusiasm for EVs with each other and the attendees!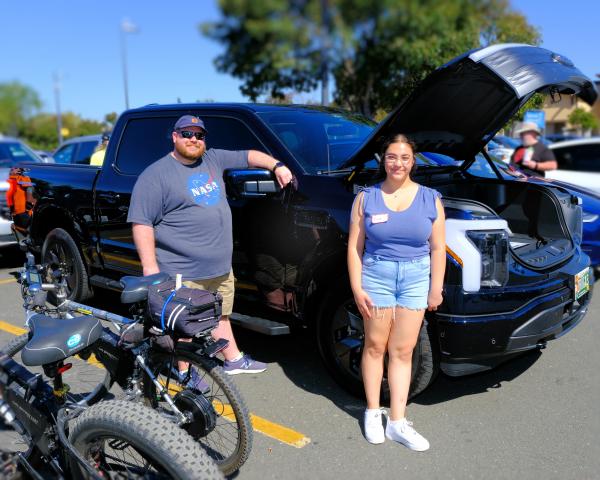 photo by: Nick Cheranich


Student volunteer Eva Pelayo and the Ford Lightning that came all the way from Oregon!
Event Description
Current models of electric vehicles (EV) will be on display and their owners available to answer questions in the Walmart Supercenter parking lot in American Canyon.
Learn from EV drivers and enthusiasts about the thrill of owning and driving an EV, charging it at home, never having to go to a gas station, savings vis-à-vis gas cars, etc.If you are thinking of buying an EV, this is a great chance to "try on" different models.

Also learn about ways to "go electric" with battery powered yard care equipment available at Walmart.
Registered Attendees
There are currently 33 attendees registered.
Owners of These Vehicles Have Registered To Attend
| | |
| --- | --- |
| Vehicle | Registered |
| Tesla Model S | 2 |
| Chevrolet Bolt | 1 |
| E-Bike | 1 |
| EV Conversion | 1 |
| Fiat 500e | 1 |
| Ford F-150 Lightning | 1 |
| Ford Mustang Mach-E | 1 |
| Hyundai Ioniq Plug-in Hybrid | 1 |
| Tesla Model 3 | 1 |
| Tesla Model Y | 1 |
| 10 Models | 11 |
Registered attendees report 293,156 electric miles driven.