National Drive Electric Week
Frederick, MD
Sep 19, 2019
Day:
Thursday, September 19, 2019

NOTE: this event has already happened

, find current-year events on the Attend page.
Time:
5:00pm to 9:00pm
Location:
Frederick MOM's Organic Market
5273 Buckeystown Pike
Frederick, MD 21703

Event Report
We had a total of 20 Electric Vehicles on display during the course of this event. A new record.
While foot traffic was a little slow, we had many long, detailed conversations with people interested in EVs. Just as importantly, we had lots of people drive by and notice the large group of EVs all parked together. We even had a few EV drivers who saw our event, stopped by, and joined us. We've had an NDEW event at this location for several years. It has been great seeing the public going from, "Really, no engine", to asking good questions and saying, "I want my next car to be an EV".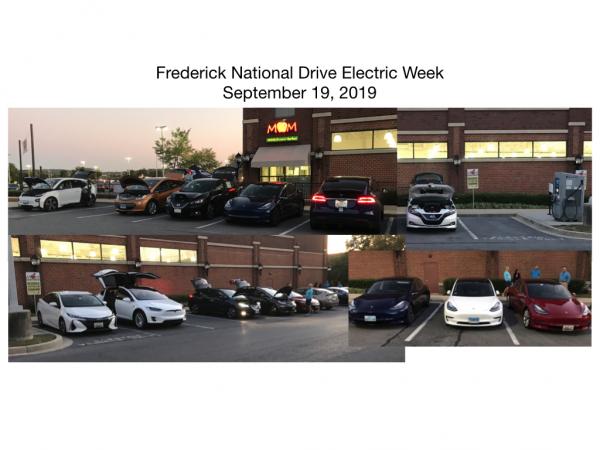 photo by: Ronald Kaltenbaugh


EV models included: Leaf, Prius Prime, i3, Volt, Bolt, Mercedes B Class, and Tesla Model 3, S, and X.
Event Description
MOM's Organic Market is a location known for local, organic food and a 100% wind powered store. Now is your chance to check out Electric Vehicles (EVs) before you shop for groceries. Learn about the many benefits of EVs for your family, your pocketbook, and the environment. Talk to actual owner/advocates and ask them about their real world experience going electric.
We will be located in front of and beside the MOM's store near their EV chargers.
Registered Attendees
There are currently 25 attendees registered.
Owners of These Vehicles Have Registered To Attend
| | |
| --- | --- |
| Vehicle | Registered |
| Tesla Model 3 | 4 |
| Chevrolet Bolt | 2 |
| Chevrolet Volt | 2 |
| Nissan Leaf (2018+) | 2 |
| Tesla Model S | 2 |
| Tesla Model X | 2 |
| BMW i3 REx | 1 |
| Mercedes-Benz B-Class Electric Drive | 1 |
| 8 Models | 16 |
Registered attendees report 438,624 electric miles driven.