National Drive Electric Week
Abita Springs, LA
Sep 15, 2019
Day:
Sunday, September 15, 2019

NOTE: this event has already happened

, find current-year events on the Attend page.
Time:
12-4
Location:
Abita Springs Trailhead Park
22049 Main Street
Abita Springs, LA 70420

Event Report
Abita Springs Drive Electric Day was a roaring success! Well, EV's are really quiet, actually, but we enjoyed the sublime sounds of local bands The Flying Vaughns and the aptly named LoAmps. We were well-hydrated and fed by vendors at the Art and Farmers Market while learning about the amazing diversity of electric vehicles. The true theme of the day was that there is an EV for Everyone! No matter what your priorities, there is an EV for you! Tesla Model S, 3, and X (including one towing a 20 foot bay boat and trailer!), Honda Clarity, Nissan Leaf, Chevy Volt, Ford C Max, local Abita Buggies and even an electric bicycle were represented at the park along the Abita River.
Local organizations Keep Abita Beautiful, the Men's Club, and Honey Island Sierra Club gave away free prizes for games, while the Fontainebleau High School RoboDawgs robotics team showed off their hand built robots. The Abita Committee for Energy Sustainability challenged visitors with an EV Trivia game. The SE Louisiana Clean Fuels Partnership brought free t-shirts for test riders, and a local science and technology writer interviewed folks for an upcoming magazine article. It was clear that electric vehicles are well loved and here to stay.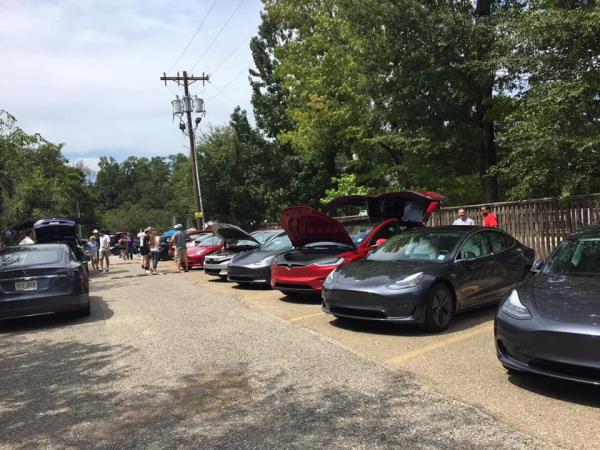 photo by: Abita Committee for Energy Sustainability


Abita Springs Drive Electric Day visitors enjoy a plethora of EV's in the beautiful Trailhead Park.
Event Description
Abita Springs Ready for 100 hosts our 3rd Annual Drive Electric Day at the beautiful, historic Trailhead Park and Pavilion. Taking place alongside our local Art and Farmers Market, the festival will include fresh, sumptuous local cuisine for sale, and live music on stage. The free museum will be open to the public, showcasing our unique history. Visitors are encouraged to walk along the Abita River trails and enjoy the playground and splashpad. Free Tesla Destination chargers are onsite for EV driving guests. Abita Springs ALWAYS throws a good party! Call for overnight accommodation info.
Registered Attendees
There are currently 42 attendees registered.
Owners of These Vehicles Have Registered To Attend
| | |
| --- | --- |
| Vehicle | Registered |
| Tesla Model S | 5 |
| Tesla Model X | 4 |
| Tesla Model 3 | 3 |
| Chevrolet Volt | 2 |
| BMW i3 | 1 |
| Ford C-MAX Energi | 1 |
| Honda Clarity Plug-in Hybrid | 1 |
| Hyundai Ioniq Plug-in Hybrid | 1 |
| Nissan Leaf (2011-2017) | 1 |
| 9 Models | 19 |
Registered attendees report 612,044 electric miles driven.
In the News…