National Drive Electric Week
Princeton, NJ
Sep 14, 2019
Day:
Saturday, September 14, 2019

NOTE: this event has already happened

, find current-year events on the Attend page.
Time:
10-1
Location:
West Windsor Farmers Market
2 Vaughn Drive parking lot
Princeton, NJ 08540

Event Report
Our 2nd year event focused on trying to show the public the wide variety of EVs available to the public. Once again, the number of vehicles & owners that came EXCEEDED pre-registrations, so we had more than 20 models of EVs ranging from the newest arrivals such as: Audi e-Tron, Jaguar i-Pace, Hyundai Kona EV, Kia Niro EV, and Subaru Crosstrek and we were fortunate to have a number of classic & rarely seen EVs in attendance such as Chevy Spark EV, Honda Fit EV, Mercedes Benz B Class EV, and Tesla Roadster.
Due to factors beyond our control, we had to re-configure the event layout at the last moment. Despite this last minute hiccup, the event went ahead as scheduled.
Thank You to all of our owners and attendees for an outstanding event.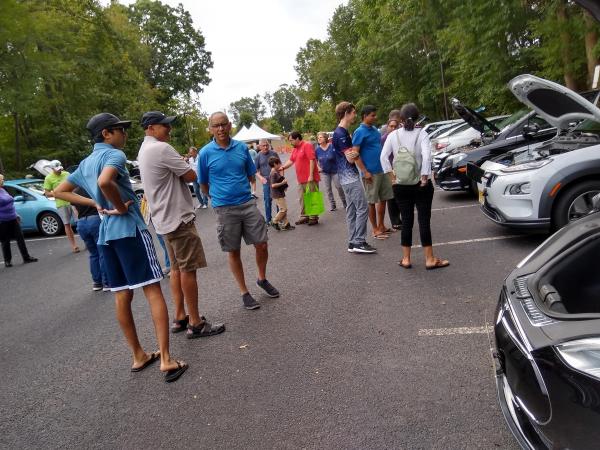 photo by: Andi Sjamsu - NDEW Princeton Jct 2019


Owners answer questions from attendees regarding EVs. Among the EVs visible in the photo: Tesla S, Hyundai Kona EV, Mercedes Benz B Class (on right side), & Nissan Leaf on left.
Event Description
The 2nd Annual National Drive Electric Week West Windsor will be co-located at the West Windsor Farmers Market on Vaughn Drive (2 Vaughn Drive, Princeton, NJ 08540 according to Google Maps), adjacent to the Princeton Jct train station.
Come and speak with current EV (Electric Vehicle) owners about their experience driving and hear directly from them about their REAL WORLD experience with common EV concerns such as:
* aren't EVs more expensive than ICE (Internal Combustion Engine) vehicles?
* isn't it a hassle to charge an EV?
* how messy is charging an EV (I don't like refueling my ICE vehicle bc of the smell and having to handle the nozzle)?
* how hard is it to charge an EV when I'm away from home?
* how would I know where to charge my EV when I'm away from home?
* don't EVs have far less driving range than ICE vehicles?
* aren't EVs expensive to maintain?
* aren't there just too small a selection of EVs on the market today?
* isn't it more expensive to insure an EV?
Last year, over 30 owners came and brought their EVs and answered questions.
Our EV Showcase will have limited space, look for it at the rear/top of the center aisle of the West Windsor Farmers Market.
We are also looking to bring electric bicycles and motorcycles to the event so that folks can see that there are a multitude of Electric options.
Thanks for visiting and see you there.
Registered Attendees
There are currently 107 attendees registered.
Owners of These Vehicles Have Registered To Attend
| | |
| --- | --- |
| Vehicle | Registered |
| Tesla Model 3 | 10 |
| Chevrolet Bolt | 6 |
| Tesla Model X | 4 |
| Audi e-tron | 2 |
| BMW i3 REx | 2 |
| Chevrolet Volt | 2 |
| Chevy Spark EV | 1 |
| Honda Clarity Plug-in Hybrid | 1 |
| Honda Fit EV | 1 |
| Hyundai KONA Electric | 1 |
| Jaguar I-Pace | 1 |
| Kia Niro Electric | 1 |
| Mercedes-Benz B-Class Electric Drive | 1 |
| Mitsubishi Outlander PHEV | 1 |
| Nissan Leaf (2011-2017) | 1 |
| Nissan Leaf (2018+) | 1 |
| Tesla Model S | 1 |
| Tesla Roadster | 1 |
| Toyota Prius Prime | 1 |
| Zero Motorcycle | 1 |
| 20 Models | 40 |
Registered attendees report 726,620 electric miles driven.