National Drive Electric Week
Richmond, CA
Sep 19, 2019
Day:
Thursday, September 19, 2019

NOTE: this event has already happened

, find current-year events on the Attend page.
Time:
Noon to 3 PM
Location:
Civic Center
325 Civic Center Plaza
(Parking Lot Across from Richmond Public Library)
Richmond, CA 94804

Event Report
Richmond National Drive Electric Week (NDEW) Event Recap–September 19, 2019
Here's The KCRT Video YouTube link: https://www.youtube.com/watch?v=Vl4shoEUB_c&t=79s
What an event! Mayor Tom Butt shared the NDEW Proclamation to open the event. Interim City Manager Steve Falk showcased his 1961 VW Beetle 100% electric conversion while providing the crowd pleasing background music! Vice Mayor Ben Choi, Robert Rogers, District Coordinator for Contra Costa County Supervisor John Gioia, Taylor Kimber, District Aide for Congressman Mark DeSaulnier, and Peter Engel, Director of Programs for the Contra Costa County Transportation Authority were also in attendance.
The variety of 22 automobiles models on display in addition to the 33 EV owners in attendance have collectively driven over 420,000 zero emission miles! New to the event were the Zero Motorcycle, Espin bike and E-cargo bike test rides. One attendee purchased an E-cargo bike that will enable independent mobility for her son, and at least one City Employee began the ownership process to replace two family vehicles with loan information provided by the Community Housing Department Corporation (CHDC) and the Clean Vehicle Rebate Project. As our Ambassador School, Richmond High sent the Robotics Club to show case their projects.
Free onsite charging was provided by EVgo along with the various prize drawings (EVgo charge cards, Annual Electric Vehicle Association Memberships and San Francisco to Richmond ferry passes) were also a big hit! We received feedback that many prospective EV owners made appointments to test drive vehicles at the various auto dealerships while others took test rides in the privately owned vehicles.
Much gratitude to Electrify America and PG&E for their additional sponsorship and support.
Lastly, thank you to everyone who signed up at the event to take the Richmond Clean Air Day Pledge. Please join us on October 2, 2019 at 450 Civic Center at 12:00 pm for our Clean Air Day Community Bike Ride sponsored by the Clean Air Coalition and don't forget to take the pledge at: https://cleanairday.org/individual-pledge/?c=CRCA .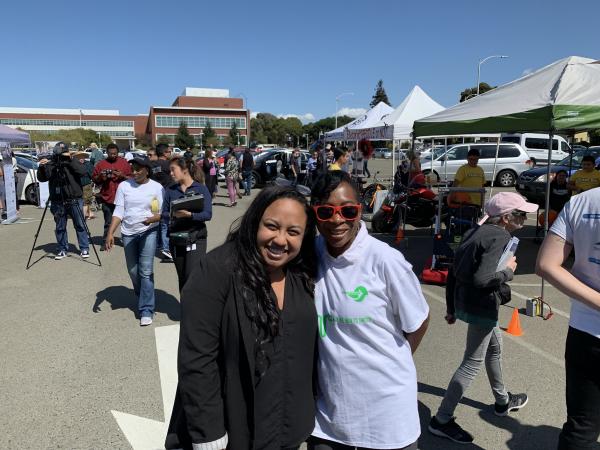 photo by: Photo Courtesy of Robert Rogers, District Coordinatior for the Office of County Supervisor John Gioia


Taylor Kimber, District Aide for Congressman Mark DeSaulnier and LaTressa Wilson Alford, BWOPA State Public Policy Advisory Board
Event Description


Join us at this FREE event!
Check out this video of our Interim City Manager's 100% Electric 1961 Beetle .
It will be showcased at the event.
Special thanks goes to our corporate sponsor PG&E.
Connect with local resources to assist with purchasing vehicles and equipment, leasing, rebates and low cost programs
Discover the latest e-mobility transportation modes Test ride a variety of electric vehicles, E-bikes, & scooters
Meet local Electric Vehicle owners
Enjoy Great Food:
Food Truck(s) and GDC Kitchen Catering Tent
Win Raffle Prizes:

Evgo Charging, Ferry Passes, New Eastbay Electric Auto Club Memberships and more
Engage in Community Spirit:

EVgo, PG&E, City of El Cerrito, Richmond High Robotics Club, 511.org,
Marin Clean Energy, EV Owners, Clean Rebate Vehicle Rebate Project and many others!
Complimentary onsite EVgo DC Fast Charging (for registered attendees)
EV rides sponsored by Electrify America
Registered Attendees
There are currently 178 attendees registered.
Owners of These Vehicles Have Registered To Attend
| | |
| --- | --- |
| Vehicle | Registered |
| Tesla Model 3 | 6 |
| Chevrolet Bolt | 5 |
| Chevrolet Volt | 5 |
| BMW i3 | 2 |
| EV Conversion | 2 |
| Ford Focus Electric | 2 |
| Ford Fusion Energi | 2 |
| Nissan Leaf (2011-2017) | 2 |
| Other Plug-In Vehicle | 2 |
| Volkswagen e-Golf | 2 |
| Chevy Spark EV | 1 |
| Fiat 500e | 1 |
| Hyundai KONA Electric | 1 |
| Jaguar I-Pace | 1 |
| Kia Niro Electric | 1 |
| Mitsubishi Outlander PHEV | 1 |
| Smart fortwo electric drive | 1 |
| Tesla Model S | 1 |
| Tesla Roadster | 1 |
| Think City | 1 |
| Toyota Prius Prime | 1 |
| Zero Motorcycle | 1 |
| 22 Models | 42 |
Registered attendees report 385,483 electric miles driven.
In the News…