National Drive Electric Week
Edmonton International Airport, AB
Sep 16, 2018
Day:
Sunday, September 16, 2018

NOTE: this event has already happened

, find current-year events on the Attend page.
Time:
11am - 4pm
Location:
Premium Outlet Collection Edmonton International A
1 Outlet Collection Way
Edmonton International Airport, AB t9e1j5

Event Report
Despite the sudden snowstorm that lasted throughout the day, we are ecstatic that we still had 28 EV's representing 15 different models at NDEW Edmonton. This is our largest showing to date. We also had the only in service all-electric full-sized school bus in western Canada exhibiting too!

We regret to report that no insurance company would insure us, the Electric Vehicle Association of Alberta, to conduct test rides/drives for this event. General insurance only. We reached out to other Canadian EV organizations prior to the event and they had the same issues as we were experiencing.

The weather really was unpleasant and are very pleased that about 200 people still came out to participate in the event.



photo by: Electric Vehicle Association of Alberta


Chevy Bolt EV at NDEW Edmonton, Alberta
Event Description
The Electric Vehicle Association of Alberta is excited to once again host our annual free EV Car Show as part of National Drive Electric Week. Since we were bursting at the seams at our last two venue
s, we have partnered with the Premium Outlet Collection Edmonton International Airport to give ourselves plenty of room to spread our electrons.
Are you EV curious? We will have plenty of owners on hand, with a large variety of EVs to look at and ask questions about - including the two most common: 'how far will it go on a charge?' and 'are they any good in the winter?'!!. Get the straight goods on how electric vehicles handle Alberta winters and Alberta road trips.
Special attraction: Check out an electric school bus! The eLion is already driving kids around in Alberta.
Are you an EV/PHEV owner? Come and meet other like-minded individuals, and share tips and tricks for driving Electric in Alberta, and enlighten fellow Albertans who might not understand what EV ownership is all about. An unofficial sponsor, CDW, has graciously gifted us a set of Sony headphones, which will be given away to one random EV at the event!
The EVAA is thankful for the generous support of the City of Edmonton.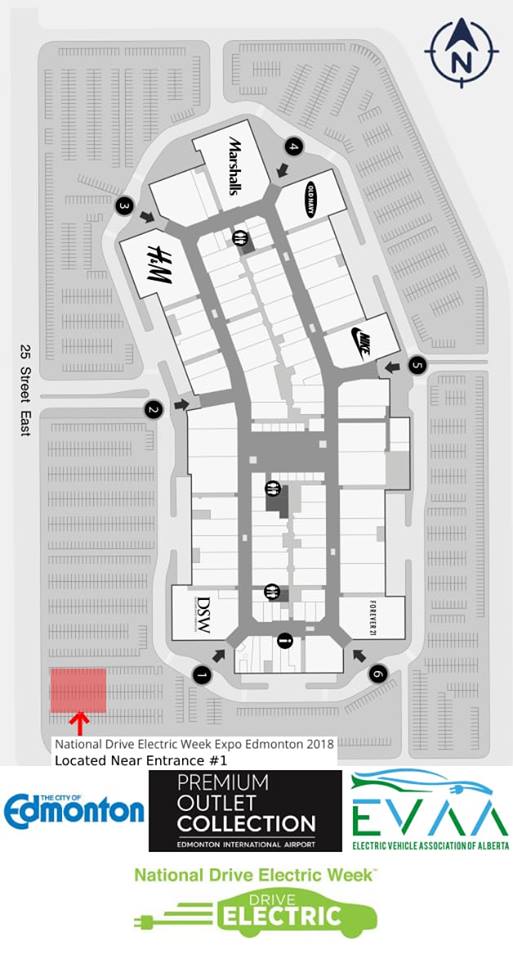 Registered Attendees
There are currently 108 attendees registered.
Owners of These Vehicles Have Registered To Attend
| | |
| --- | --- |
| Vehicle | Registered |
| Tesla Model S | 8 |
| Tesla Model 3 | 5 |
| Chevrolet Bolt | 3 |
| Nissan Leaf (2011-2017) | 2 |
| Nissan Leaf (2018+) | 2 |
| Audi A3 e-tron | 1 |
| BMW i3 | 1 |
| Chevrolet Volt | 1 |
| Ford Fusion Energi | 1 |
| Ioniq Electric | 1 |
| Mitsubishi Outlander PHEV | 1 |
| Mitsubishi i-MiEV | 1 |
| Other Plug-In Vehicle | 1 |
| Smart fortwo electric drive | 1 |
| Tesla Model X | 1 |
| 15 Models | 30 |
Registered attendees report 814,622 electric miles driven.