National Drive Electric Week
Erie, PA
Sep 16, 2018
Day:
Sunday, September 16, 2018

NOTE: this event has already happened

, find current-year events on the Attend page.
Location:
Erie, PA 16509

Event Report
The day was great, sunny, 82 degrees, and windy. Rain would have caused us to cancel. We only had the site for one day, so set-up started at 9am, and we were ready to open at noon. About 9 show cars had already arrived, as well as some visitors. The day went well for the first three hours, then the crowd thinned out. The Erie Mayor Joe Schemer and Erie County Executive Kathy Dahlkemper spoke to the audience briefly, then Barbara Potts gave them a demonstration ride in her Tesla Model X. The exhibit tables were largely ignored, it was the cars and owners that were the big hits. Two of our TV stations were there to film the cars and they interviewed the team captains. The 10 and 11 o'clock news reports carried the interviews, and the two 'dancing' Model X's to the music of the Trans Siberian Orchestra. Ice water and Lemonade were a big hit. Four touring Tesla's stopped for a quick charge, and joined right in answering questions from the crowd. All told we had 14 Plug-in's to show visitors. Our solar panels powered the sound system, which played music all during the show, except for announcements every 15 minutes to give away free-bies to the ticket winners.

We only had one $250 Contributing Sponsor, which covered our only real cost... $250 for liability insurance. Al the other costs we covered by volunteer donations out of their pockets and volunteer printing.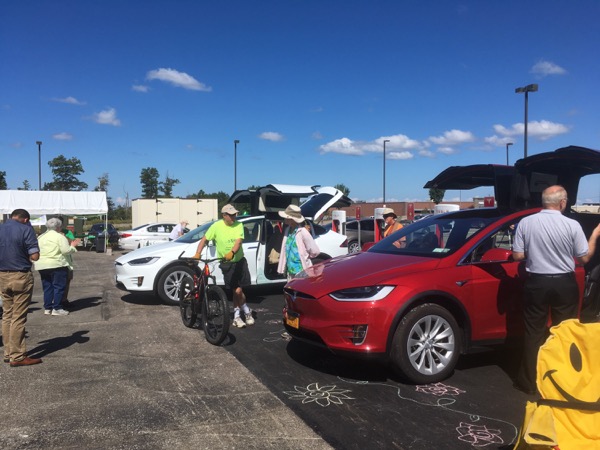 photo by: City Captain Sam Miller


This photo shows the two Tesla Model X's, one of the two electric bike owners who let them drive around the parking lot, a BMW 530xe, some of the crowd and the information tent.
Event Description