National Drive Electric Week
Kalamazoo, MI
Sep 16, 2015
Day:
Wednesday, September 16, 2015

NOTE: this event has already happened

, find current-year events on the Attend page.
Location:
Kalamazoo, MI 49007

Event Report
The week included two showings of "Who Killed the Electric Car?" - one at Kalamazoo Public Library Main Branch, one at Kalamazoo College. A total of about 40 people saw the movie. The Q&A sessions that followed indicated that almost all audience members changed their preconceived notions about viability and practicality of electric cars.

At the Ride-and-Drive, everyone who rode or drove came away impressed. We asked each one to fill out a brief questionnaire beforehand and a followup afterwards. The followup asked just one question: What did you learn? Almost all mentioned how quiet and smooth their ride was. Most talked about how impressed they were with practicality, speed, and acceleration. No one gave any negative answers. One rider made a numbered list of 20 impressive things he learned about driving electric. We clearly won people over!

We also made several awards to local groups and individuals who've led our community in service to a sustainable clean-energy future.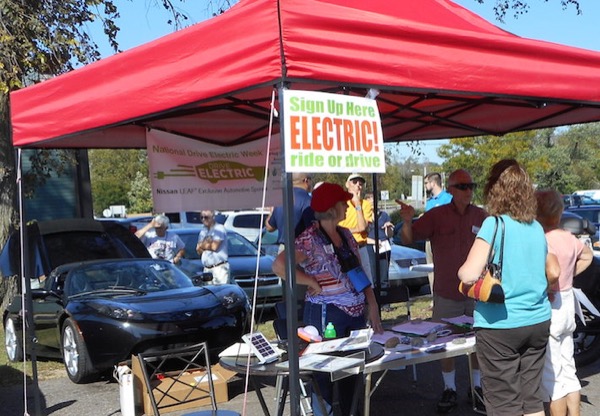 photo by: Bruce Brown, Sierra Club SouthWest Michigan Group


On the far left, dressed all in black, is the Tesla Roadster. Behind the table are Sierra Club SouthWest Michigan Group volunteers Gail Nelson (in the red hat) and Jim Ferner (wearing the shades).
Event Description
In the News…